Select Your Models Category Below

Please Notice


YellowAirplane.com is currently a total mess. I'm a 60 year old Disabled Veteran and have not been able to keep up with my work. In addition, when Illinois Governor Pat Quinn signed the Internet Tax Bill, (Which I agree with), Amazon dropped me as an affiliate and I have not had the money to pay for my property tax. On April 21st 2015 my county will take my house and everything in it, plus send my pets to the animal shelter a only about $5000. I have no place to go, I'm neither physically, mentally or financially capable moving, so I will be left with absolutely nothing with no place to live. When a tax deed is sold, the purchaser also owns your cars (if they are on the property) your boat, motorcycle, computers, TV, furniture and everything. Yet, the county treasurers office will pay three police cars, an auctioneer as well as a number of other people, all of which cost more than my taxes themselves, just to evict me, or anyone else in this situation.

On videos that I have watched on YouTube about Tax Sales, the county sells the house for about half the taxes owed. So seeing that they are so willing to hire so many people to move a person, and they don't sell the property for near the market value, they are not really interested in a persons money, they want my house and they want to punish me severely. Yes, this is severe punishment for a disabled person who owns a house.

Cruel and Severe Punishment


Is this what our government is doing to the disabled, the sick, people who lose their jobs or a spouse, or a farmer who loses his crop and cannot keep up with his taxes. Yes, the property tax law only goes against a person who is severely weakened, the people who are disabled in some way or another. This is breaking every intent of any discrimination law. Furthermore, the Property Tax law has the same definition as Extortion, so it is extortion. What can we do about this? If they need their tax, they can stop playing night time football games, the cost of running the lights for a single night will pay the average tax in McDonough Illinois.

The property tax should be eliminated not just because its discrimination and extortion, but it's wrong. It takes everything a person has ever earned and selling it for pennies on a dollar. Professor Richard Wolf explains this on YouTube and how corporations buy houses at pennies on the dollar, sell them at or near the market value, then put this money into a tax free bond. Now they just bought a $100,000 bond for only the amount of your taxes. But that's not all, next they use the $100,000 bond to borrow a Million Dollars of TAX FREE MONEY. That's right, they by your taxes for about ten thousand dollars and end up with a Million dollars to make their businesses more profitable, all tax free.

What can we do about this.

We can switch Property Tax to Mortgage Tax, this way it's not extortion, instead it's really a sales tax when you buy your home. Once your home it paid off, then it's yours, you own it, the county will not be able to TAKE your house away. The American Dream will be preserved.

I'm sure that the state will not change it's laws in this way, however, there is a way that we can demand that the taxes will be changes. It's the humane way to take a persons home, instead of ruining that person forever. The way to do this is after three years of non tax payment, the owner can be forced to put the house up for sale with a real estate agent, this way the homeowner will still be able to keep his personal belongings, the profit made on the sale, the county will receive its taxes and the county will not have to pay the police, auctioneer or anyone else, it would be simple and humane, not cruel and unusual punishment.

Now with all of that said, I'm in trouble and I need to come up with six thousand dollars in two months or I will have to move to Ft. Lauderdale where it is illegal to feed homeless disabled veterans. Right now, I need help and you can help by donating any amount at all to my PayPal Account Below. If you would like to read my story read this, Why God Sent Me to the North Pole. I want to keep my property and I want to keep this website open for since it has so much historical information directly from our WW2 Veterans and beyond. Any donation would be greatly appreciated. Thank you very much, C. Jeff Dyrek, Webmaster.


Best Camaros for Sale Best Corvettes for Sale Best Mustangs for Sale

Here for the YellowAirplane
Virtual Online Museum
for Fantastic Stories of All Kinds

Airplane Gift Ideas Model Railroad Gifts

Below are Projects that I'm currently working on.
History of the North Korean Nuclear Weapons Program. How the North Korean Atomic Bomb was built giving the DPRK it's Atomic Bombs today.
Bill has worked on this book since 2008 and has made remarkable discoveries. Originally making it as part of the Japanese Nuclear Weapons which ended in Konan Korea. Bill found out that this was the genesis of the North Korean Nuclear Weapons Program. The revelations in this book are absolutely fantast. Bill is the most in-depth researcher that I have ever met leaving no stones unturned. Bill backs all of his work up with CIA, OSS and other documents along with over 400 research assistants and eye witnesses. The book has turned into the entire, extremely detailed, history of the DPRK, North Korean Nuclear Weapons Program. The introduction of Bill's book was written by Dr. Benjamin C. Garrett, FBI Senior Scientist Weapons of Mass Destruction (WMD) forensic Lab in Quantico Virgina.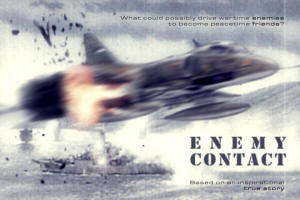 What could possibly drive wartime enemies to become peacetime friends?
Based on an inspirational true story.
Coming soon...
In 1979, Neil Wilkinson, a young man from Leeds in the UK, made a decision that would forever change his life. He joined the Royal Navy. He figured he was leaving behind life on the tough side of the tracks and never looked back. Little did he know that life was about to get tough again. Neil was sailing off into the toughest place of all. War.
The Mighty Eighth Air Force World War II
The latest book by Warren Benjamin Kidder.
This book starts out with action then talks about Charles Sorenson's building of the B-24 Liberator Factory at Willow Run. Next it goes into America's entry into World War II and shows the daring raids of Jimmy Doolittle and quickly moves into the intense action of the B-24 Liberators raiding the oil refineries in Ploesti Romania.
The last part of this book is a complete listing of almost one thousand raids of the 8th Air Force in WW2.
This is a color edition, hardcover edition, hand signed by the author, Warren Benjamin Kidder.
This book is action packed from beginning to end and is a non fiction account of what it really took to win the war both here in the United States and on the battle ground. You need to read this book.
Here's Warren Benjamin Kidders New Book, The Mighty Eighth Air Force
Here's the Movie Script for Willow Run
Willow Run, The History of the Development of the B-24 Liberator Bomber Exhibit
How to Teach Your Kids by using Air Shows
WW2 War Correspondent, Ernie Pyle's story
teaches us that it is most often the simple things in life that provide the glue in a community.
Values such as honesty, persistence and concern for those less fortunate.

From the Webmaster: I've worked on Avionics for 18 years and have been involved in
Aviation for 40 years. If you are not using an aircraft cover to keep the heat out of your
cockpit, You're spending a lot of money on Avionics Repairs that you Don't Need to Spend.

A little bit about YellowAirplane.com

At the YellowAirplane hobby shop we strive to bring a new way of education to our viewers and our kids by taking the dull everyday lifestyle and turning it into a super charged, super fun, learning experience filled with high tech Jet Fighters, Model Airplanes, Warbirds, Museum Exhibits and lots more.. How do we do this? We use a derivative of Einstein's success formula, Work + Play = Success. Here we expound on the play portion by using the idea of Watch an Airplane Movie plus Build a Model plus Go to an Air Show equals An Educated Family with a greatly improved understanding of aviation and technology and a much better chance of future success. Here's an example. Watch an airplane movie about the F-16 such as, Iron Eagle. While you are watching TV, build an F-16 model. Then go to an air show where there are real F-16 airplanes flying. What Happened? You just watched a great airplane movie and had an enjoyable evening. At the same time, you have just built a beautiful F-16 Falcon model which you will keep forever with the deep pride that you have built it. Next you have seen a fantastic air show, and I mean fantastic, and have spent a family day together. Did you have fun? Did you learn a lot? Did you spend quality time with your family? You bet! And you can do all of this by visiting Yellow Airplane! We also cover airplane books, lots of airplane movies and all kinds of hobby shop model airplanes. We love aviation history and have aircraft models of the historic planes. Recently we have added electric trains and model trains We also have many exhibits showing military and civilian aircraft. Exhibits that show everything form homebuilt aircraft being built, to trips on the USS Kitty Hawk and even expeditions to both the North Pole and South Poles. So look around this super hobby store and enjoy yourself looking at both hobbies and exhibits.
North Pole Skydiving PhotoGallery
South Pole Adventure PhotoGallery
If you have a quest for action adventure travel vacations, here.
Updated Model Products
Modelos con la tienda Hobby, Libros, películas en DVD, los trenes eléctricos, Arte, Exposiciones, Militares, Adventure Travel, Aviación, Aviones
Affiliate Links

Other Links

Here's some quick information about
YellowAirplane.com

6-04-2012
43,692 Files
1,889 Folders
20,503 Pictures
526,756 Hyperlinks
236,174 External Links
634,298,000 Bytes
over 14,000 pages.
This site is still growing every day.

Site Opened 03-25-1997
One Million Visitors 02-28-2002
Two Million Visitors 10-16-2002
Three Million Visitors 02-25-2003
Four Million Visitors 07-06-2003
Five Million Visitors 12-06-2003
Six Million Visitors 04-05-2004
Seven Million Visitors 08-24-2004
Eight Million Visitors 11-29-2005

Counter Removed 12-20-2006

This is an aviation website with thousands of pages of aviation, military and North Pole exhibits. We also sell models, videos, books, aviation art and lots more. We run a program for the kids called Y-I-Bet, Why I bet on the Youth of America using air shows, aviation, and races to teach kids about technology and professional practices.
Some interesting Quotes
"Giving money and power to government is like giving whiskey and car keys to teenage boys." P.J. O'Rourke
"A government big enough to give you everything you want is a government is enough to take from you everything you have." Gerald Ford.
.Thank You for Visiting

YellowAirplane.com
New Free Video Clip Download Center.
Here for a list of WW2 Fighter Groups

هواية تتسوق مع نماذج ، كتب ، أفلام دي في دي ، بالقطارات الكهربائية ، الفنون ، المعارض ، والعسكرية ، مغامرة السفر ، الطيران ، طائرات
愛好店與模型,圖書, DVD電影,電氣列車,藝術,展覽,軍事,探險旅遊,航空,飛機
Hobby Shop avec des modèles, livres, films DVD, trains électriques, Art, Expositions, militaire, Aventure Voyage, Aviation, avions
Hobby Shop mit Models, Bücher, DVD-Filme, Elektrische Eisenbahnen, Kunst, Ausstellungen, Militär, Abenteuer Reisen, Luftfahrt, Flugzeuge
शौक Shop मॉडल, पुस्तकें, डीवीडी फ़िल्में, इलेक्ट्रिक रेलगाड़ी, कला, प्रदर्शन, सैन्य, साहसिक यात्रा, उड्डयन, हवाई जहाज के साथ
ホビーショップモデル、書籍、 DVD映画、電気鉄道、芸術、展示、軍事、アドベンチャー旅行、航空、飛行機で
Hobby Sklep z Models, Książki, Filmy DVD, pociągi elektryczne, Sztuka, Wystawy, Wojskowa, Adventure Travel, Lotnictwo, Samoloty
Хобби магазин с моделями, книги, фильмы на DVD, электропоездов, искусство, выставки, Военный, Приключения Путешествия, авиации, самолеты
Aeroplane Models and model aeroplanes. The aeroplane model store
The 34th fighter Squadron WW2 Exhibit
USS Kitty Hawk Aircraft Carrier Exhibit.
Read the Webmasters Story, "Why God Sent Me to the North Pole." You will Be Surprised.


D|/Web%20Site
Write to the Webmaster
Website Analysis
Keyword Analyzer