Click on Pictures Below for Much Larger Views
B-24 Liberator #66
15th AF, 49th BW, 461st BG, 767th Bomber Squadron.
Torretto, Italy B-24J-5-DT, #42-51322 SQ # 66 Downed 17 Dec 1944 Adony, Hungary
Standing L to R: 2Lt. Howard E. Munson, 1Lt. Charles V. Lang (P), Staff Sergeant Donald R Duchene, 1Lt. Arthur W. Mohlman
Kneeling L to R: Cpl. Lon N. Reed, Cpl. Guy V. Bosso, Sgt. Wilfred A. Engelke Sitting L to R: Cpl. Hjalmar O. Johansson,
Cpl. Harold R. Norton, Cpl. James M. Rutter
4 May 2010
Hi Jeff,
My name is Rebecca Johnson, I have been trying to find information regarding my Great Uncle, I came across your site and found a picture of what I believe to be his squad. However in the picture, the names below states that the name is unknown. After talking with my grandmother, she believes the one in the picture is her brother. Staff Sergeant Donald R Duchene.
If you have any information, or could post his name with the picture, I would greatly appreciate that, he was a hero to our country who never made it home.
Thank you again for your time.
Rebecca Johnson
12-13-2009 Hello, My name is Michael and My Grandfather was the pilot of that plane. I'm afraid there is a slight misspelling of his name. It was Howard E. Munson Serial #0780316 Assigned to the 461st on 11-29-1944. He just recently passed away so it has spurred me to look him up. I miss him very much and am only writing you to let you know. I love to see his name and photos on-line but only ask that his name be spelled correctly. I think you did a great job on the research for his plane when it went down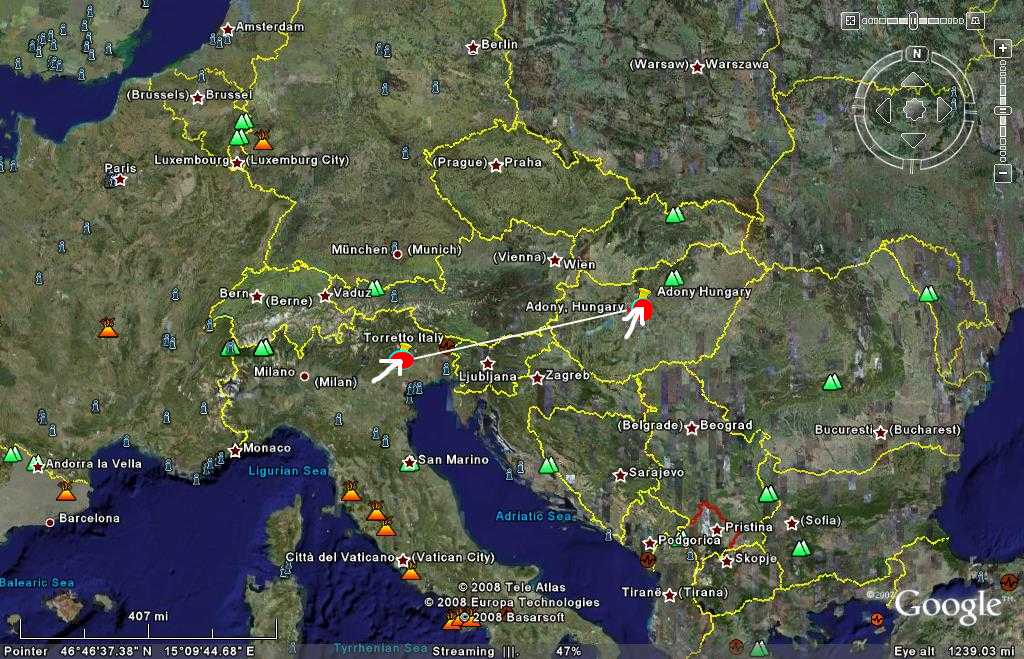 Location of the Bomber #66 in Torretto Italy in 1944
The pin to the lower left is the where the Photo was Taken,
the Pin to the Right is where the B-24 Crashed 17 Dec. 1944
Click on Picture for Larger View.
B-24 Liberator Movies B-24 Liberator Aviation Art
B-24 Liberator Models B-24 Liberator Books
Aviation Art Print by Tony Weddel.


On August 1, 1943, 178 Liberators made a famous low-level bombing raid on the oil refineries at Ploesti, Rumania. This scene shows John R. "Killer" Kane's B-24 named Hail Columbia and another Pyramidier B-24, The Squaw, making their attack through the thick smoke over the target. 23"x 19" print.

0008500

Coming Back is Secondary

Aviation Art Print by Michael Wooten.
The Vulgar Virgin, a B-24 Liberator of the 344th Squadron, 98th Bombardment Group (H), makes its fatal run over target "White IV," Ploesti, before being lost to flak and enemy fighters. This 33"x 24" limited edition, numbered print is signed by the artist and by 12 Ploesti survivors and also includes a booklet with photographs and biographies of the signatories.
0071190
Col. Walter Stewart Signed Photograph
Aircraft Photograph
This framed print of a photograph taken during the August 1, 1943, low-level raid on Germany's oil refineries in Ploesti, Romania, is signed by Col. Walter Stewart who, as deputy lead of the 93rd Bomb Group on this mission and pilot of the only first-wave B-24 to survive the attack, received the Distinguished Service Cross.
0071450

Aviation Art Print by Keith Ferris.
B-24Ds of the American pioneer 93rd Bomb Group climb through 21,000 feet into the light of the early morning sun. On this day, March 18, 1943, the B-24Ds, joined by B-17s and other bombers, crossed the East Coast of England en route to their target, the submarine base at Vegesack, Germany.

This first mission to Germany for the 93rd Bomb Group proved that daylight bombing could be carried out successfully in the face of German defenses. Limited edition of 1,000 signed and numbered by the artist. print.0007584

Bent Wing Sonata

Aviation Art Print by Rick Herter.
Protecting B-24 Liberators returning from a bomb run, an F4U Corsair from VF-17, the "Jolly Rogers," races past a Japanese Zero - whose pilot is bailing out - it just shot out of the sky over the South Pacific. 23"x 25" limited edition print is signed and numbered by the artist.

#

0076008
Click Here for North Pole Global Warming
Click Here's another Book Review about a B-24 Pilot in WW2, Jessie Pettey,
One More Mission, A Journey from Childhood to War.
Click Here to go to the
YellowAirplane Online Museum
Veterans, Read This
Go to Yellow Airplane's own Online Museum