Photo Scanned by C. Jeff Dyrek
A PT-19, What is that? Someone asked as we eagerly looked at photographs showing several rows of PT-19's parked in front of a control tower waiting to fulfill our dreams of flying into the wild blue yonder (words from the official Air Corps song). I had completed pre-flight training August 30, 1943 and the next day, September 1, 1943, was sent to the Primary Training Center located in Uvalde, Texas, about 80 miles west of San Antonio. Garner Air Field Primary Training Center then, and still does consist of a few buildings, a small air field with gravel taxi strips and two runways. It was a small training air base located in a tiny town in a desert populated with horned toads, jackrabbits, and a few single high school girls. Most girls either married or left town upon graduation. Uvalde was also the home of former vice-president John Nance Garner and the training base, Garner Airfield, was named in his honor. Since he seemed to own most of the land in Uvalde, I wondered if he might have also owned the airfield. We had eagerly waited the moment that we would step into an airplane, receive instructions, and learn to fly. That time had finally arrived.
Jesse Pettey

To Order this Book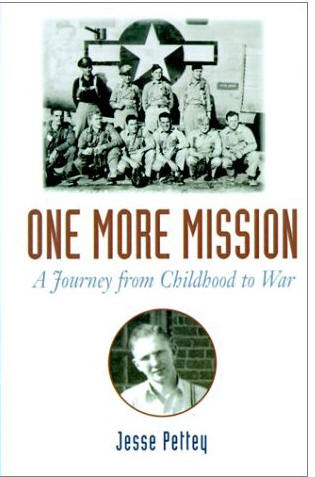 One More Mission: A Journey from Childhood to War
by Jesse Pettey

I really enjoyed reading about this young boy's life in east Texas during the Depression. Gives one a good idea of what life was really like back then. The small town boy then grows up to go fight in a world war as a bomber pilot. Interesting accounts of each mission he flew over Europe. A well-written book.

With a special interest in World War 2 and the 461st Bombardment Group in particular, I found this book excellent. Most of the men who fought during WWII were in their late teens and early 20s. It's amazing to be able to read about their activities.
I highly recommend this book for readers of any age. However it was particularly interesting to me as a fellow member of the same squadron and group. We were both on many of the same missions and his recollections matched my own. An excellent contrast of what bomb raids were like in those days with 700-800 bombers compared to more precision bombing done today with far, far fewer planes. The first half of the book describes life in the 20's, 30's and 40's in Texas. Although my experiences were in NJ many were similar and for those not living in those times a glimpse of what it was like.
B-24 Liberator Movies B-24 Liberator Models
B-24 Liberator Books B-24 Liberator Aviation Art
Interesting Books that you can buy


Book Description
The Consolidated B-24 Liberator first saw combat in June of 1942, making a daring raid into Nazi-occupied Romania to bomb the oil fields at Ploesti. Nearly 18,500 Liberators were built during the war years, making it by far the most-produced American combat aircraft. It served in many roles beyond heavy bomber, transport, and anti-submarine patrol, and flew in Africa, Europe, India, the Atlantic, India and the Pacific Theatre. Originally printed by the United States Army Air Force in 1942, the B-24 Liberator Pilot's Flight Operating Manual taught pilots everything they needed to know before entering the cockpit. Originally classified "Restricted", the manual was declassified long ago and is here reprinted in book form. This affordable facsimile has been reformatted, and color images appear as black and white. Care has been taken however to preserve the integrity of the text.


1855327813B-24 Liberator Units of the Pacific War

Born out of an approach made by the US Army Air Corps to Consolidated for a bomber with superior performance to the B-17, the Liberator was built in record numbers as the Allies' most abundant heavy bomber. From the first to see combat, the B-24D, to the ultimate Liberator, the heavily modified PB4Y-2 Privateer, all navy versions are featured in this, the first of four volumes on the B-24 family.

Book Description
Ever present in the Pacific from Pearl Harbor to VJ-Day, the B-24 Liberator proved to be the staple heavy bomber of the campaign. From its ignominious beginnings in the Allied rout in the Philippines and the Dutch East Indies, the bomber weathered the Japanese storm with a handful of bomb groups, which played a crucial role in checking the enemy's progress firstly in New Guinea, and then actively participating in the 'island hopping' campaign through the south-west Pacific.


B-17 nose art and name directory. This volume details the Group, Squadron, serial number and photo availability of over 9,000 WWII B-24 Liberators. Great for the historian, researcher and model builder. 32 pages of vintage photos. 8½"x 11", 192 pgs., sfbd.

A must for B-24 Liberator Buffs! Wally has expanded his format to include data on AF Wings and their component bomb groups for most of the USAAF. His B-17 Nose Art Directory was concerned with the 8th, 15th, and 20th AFs. And rather than searching the total list for group aircraft he has listed the a/c assigned to each group by group number. Definitely a source book for important data (names, serial numbers, photo availability) on this aircraft.

Click Here for B-24 Liberator Exhibits. One More Mission
by Jessie Petty
Click Here for the Willow Run Exhibit, Production of the B-24 Liberator, by Warren B. Kidder
Go with us to the North Pole, For Real
Y-I-BET
On the Youth of America

click here to see what your kids are learning now

Veterans, Read This

Click Here for a list of WW2 Fighter Groups
Click Here to go to the YellowAirplane Online Museum
Look at these exhibits and tell me what these men really fought for.
The 34th fighter Squadron WW2 Exhibit USS Kitty Hawk Aircraft Carrier Exhibit.
Read the Webmasters Story, Why God Sent Me to the North Pole