Willow Run: Colossus of American Industry.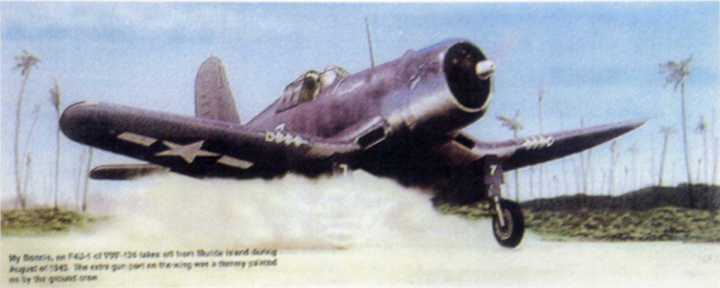 Photo Scanned by C. Jeff Dyrek
Click Here to see the Script Release for
"Willow Run The Eighth Air Force WW2 Movie"
When Pratt and Whitney invited the Ford Motor Company to help them manufacture their radial aircraft engines for allied fighter planes, it was Charles Sorensen who also manufactured 57,852 of their engines at a plant other than Willow Run, and made Ford Motor Company the largest manufacturer of aircraft engines in the country.
Used by the famous Black Sheep Squadron.
The Vought F4U Corsair was used in the military by both the Navy and Marines.
The F4U Corsair is a radial engine fighter known for both its bent wings and its unique sound. The F4U Corsair was 33' 4" long, 16' 1" high and had a wingspan of 41'. The F4U Corsair had an empty weight of 8,982 lbs and a gross weight of 14,000 lbs. The F4U Corsair used one Pratt & Whitney R-2800 engine which produced 2200 - 2300 hp. The F4U Corsair had a cruise speed of 182 mph, a max speed of 417 mph and a max climb rate of 2,890 ft/min. The F4U Corsairs maximum range was 1,015 miles. This airplane was mostly a carrier based airplane however it was also used from land based runways in the pacific by now well known pilots like Pappy Boyington of the Black Sheep Squadron.
Webmasters Note: The specs on this page are only for one variation of this plane. There are many other variations that have different specs.
VF-17 in World War II
The unit history of one of the most successful top gun squadrons of their day. 152 Japanese aircraft destroyed in the air in only 76 days of combat, plus a number of ships and troop barges destroyed. The unit had 13 aces who took the Corsair into combat for the first time.
There were eighteen Corsair squadrons in 1944 and 1945 as the fighters engaged the enemy in dogfights, shipping attacks and strikes at the heartland of the islands. These brave men pioneered the way to the modern close-air units stationed aboard aircraft carriers in the Persian Gulf and elsewhere.

Click Here to go to the YellowAirplane Online Museum

Order Willow Run, the Book.
To Order
Your Personal Autographed Copy, Send Check or Money Order to:

KFT Publishers,
3617 Christine Dr.
Lansing, MI. 48911

For Information Contact
Email: kidderfr@ATT.net Phone 517- 394-2849

Here's another Book Review about a B-24 Pilot in WW2, Jessie Pettey.
An Article by the webmaster

Click Here's Warren Benjamin Kidders New Book, The Mighty Eighth Air Force Click Here's the Movie Script for Willow Run
Veterans, Read This
B-24 Liberator Movies B-24 Liberator Aviation Art B-24 Liberator Models B-24 Liberator Books