www.YellowAirplane.com
H-3 Sea King Helicopter landing
on the front of the angle deck
of the aircraft carrier USS Kitty Hawk CV63.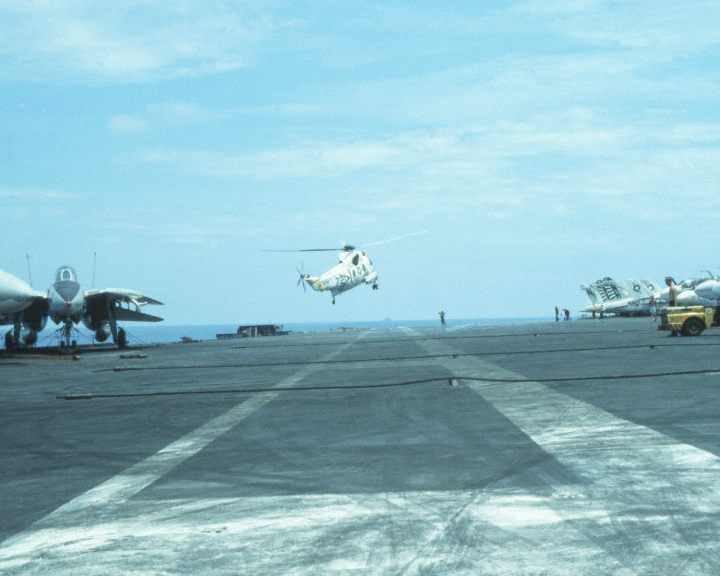 Photo by C. Jeff Dyrek

As the helicopter approaches, flight deck personnel direct the pilot for a safe landing.
Notice the ship far in the background on the horizon.
<<< Previous Photo Next Photo >>>
To See All Exhibits in the Yellow Airplane Online Museum, Click Here.

Yellow Airplane Home Base
Airplane Books * Airplane Movies * * Airplane Models * Camaros for SaleAircraft Calendars * Jet Fighter Models * Flight Manuals
Exhibits * Museums * RC Boats * Ship Models * Sailing Ships
Tanks * Military Vehicles * * * Action Figures * Train Sets * Railroad Books * Real Sports Cars for Sale * ; Real Sports Cars for Sale * Adventures * Survival Equipment More Aviation Art * More Models *
H-3 Sea King Helicopter Links
Sikorsky H-3 Sea King Specifications
Rotor Diameter 62 feet, 0 inches
Length: 54 feet, 9 inches
Weight: 11, 865 lbs. (5,339 kg) empty
Weight: 21,000 pounds maximum take-off
Cruising Speed: 140 mph
Range: 725 miles
Service Ceiling: 12,200 feet

Click Here for a list of WW2 Fighter Groups
Click Here to go to the YellowAirplane Online Museum
Look at these exhibits and tell me what these men really fought for.
the 34th fighter Squadron USS Kitty Hawk
About the Webmaster, Why God Send Me to the North Pole
Avitop.com Aviation banner exchange - Join now!
/pics/CV63_Flight_Deck13.htm|46905"