www.YellowAirplane.com
Picture of an H-3 Sea King helicopter.
landing on the deck of the USS Kitty Hawk, CV63.
1977-1978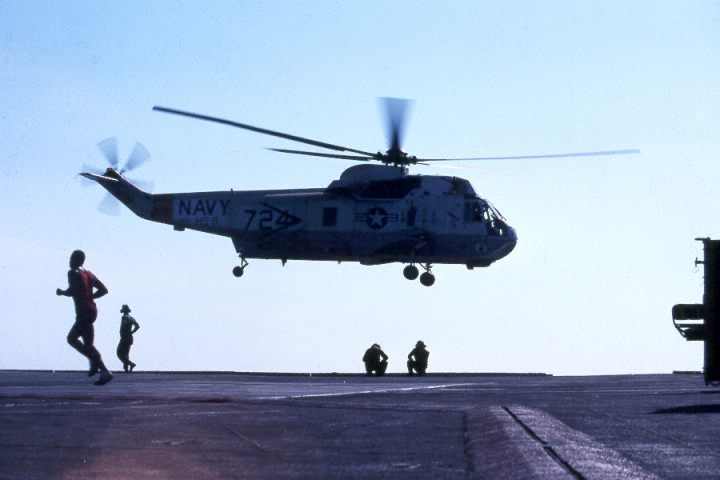 Photo by C. Jeff Dyrek

Airplane Books Airplane Movies Airplane Models Camaros for Sale
The H-3 Sea King helicopter makes its final alignment into wind just before touchdown. The flight deck crew scrambles to avoid the tremendous propwash.
In the year of 2000 my oldest son joined the Navy. He was a wild one, he didn't want any one to tell him anything.

The worst of it he did not have faith in our US. Now in 2001 he is on the USS Kitty Hawk, he's been on her for a year stationed in Yokosuka, Japan. Clint has the utmost respect for people , rules, he is proud of our country and for what he is involved with now. The main thing is, pride in himself. I have another son who joined. He is in Pensacola Florida. right now. He to is proud do do anything the military ask him to do. Jacob is an E-3, this has been his dream as long as I can remember. I naturally am very frightened for my boys, but they knew the chances when they joined. I just want to see them soon.

Sincerely.
Anna Fields

Webmasters Note: I've seen this happen many times. Kids from our home towns with really no idea of what they want to do and no real hope who have joined the Navy suddenly have a real job with an important position. This is the greatest thing to do in life, to have a job where you feel useful. One thing that I believe about safety, If you join the military, and have a professional job, you will be a lot safer than the guy who ends up drafted and who is stuck in the front lines. If you want to be safe in the military, join and ask for a professional job. C. Jeff Dyrek.
<<< Previous Photo Next Photo >>>
To See All Exhibits in the Yellow Airplane Online Museum, Click Here.

Yellow Airplane Home Base
Airplane Books * Airplane Movies * * Airplane Models * Camaros for SaleAircraft Calendars * Jet Fighter Models * Flight Manuals
Exhibits * Museums * RC Boats * Ship Models * Sailing Ships
Tanks * Military Vehicles * * * Action Figures * Train Sets * Railroad Books * Real Sports Cars for Sale * ; Real Sports Cars for Sale * Adventures * Survival Equipment More Aviation Art * More Models *

Click Here for a list of WW2 Fighter Groups
Click Here to go to the YellowAirplane Online Museum
Look at these exhibits and tell me what these men really fought for.
the 34th fighter Squadron USS Kitty Hawk
About the Webmaster, Why God Send Me to the North Pole
Avitop.com Aviation banner exchange - Join now!
/pics/CV63_H53.htm|4433"