The USS Kitty Hawk
The Kitty Hawk by Doug Keller
Click Here's a great picture of the USS Kitty Hawk CV-63 at sea. When this west pac kitty hawk cruise started in October of 1977 the ship had been freshly rebuilt. Every part was clean and like new. The kitty hawk was one of the most advanced aircraft carriers in the navy. The kitty hawk saw the first pacific deployment of the f14 tomcats with vf-114 the fighting aardvarks and vf-213 the black lions. The USS Kitty Hawk was also the first ship to do an operational test of the harpoon anti ship cruise missile which happened on this cruise. Believe me, if you want adventure, you need to join the navy and sail on great aircraft carriers like the USS Kitty Hawk CV-63. C. Jeff Dyrek, webmaster
Click here to see pictures of he kitty hawk back in 1977 Click here to go to the Yellow Airplane Home Base
The USS Kitty Hawk CV63,
in 1960 it was the worlds largest ship ever built.
1977-1978
Airplane Books * Airplane Movies * Airplane Models * Video Games
Camaros for Sale * Aircraft Calendars * Model Building Tools * Aviation Exhibits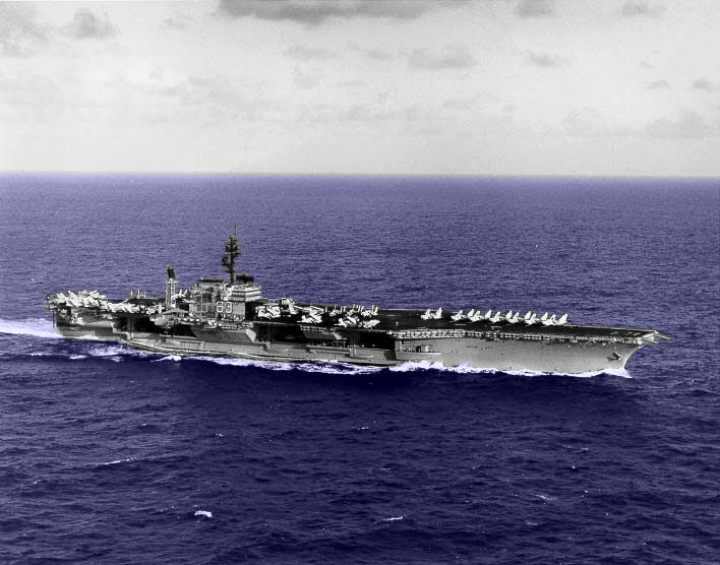 Photo from Doug Keller
A ship this big and yet is still small, very small, on the big blue Pacific
The USS Kitty Hawk CV-63
See the 34th Fighter Squadron Exhibit at the Yellow Airplane Exhibit Hall.
The 34th Fighter Squadron fly's a WW2 P-47 Thunderbolt
Click on photo to see exhibit
Avitop.com Aviation banner exchange - Join now!
/WebSite/pics/Viewers_Pages/Doug_Keller_3.html|6944"