www.YellowAirplane.com
The 34th Fighter Squadron
Flying the P-47 Thunderbolt
from Ie Shima Island North West of Okinawa
The 34th Fighter Squadron
Operations Officer Captain Harry C. Strawn Jr.
El Escuadrn de caza 34a
Oficial de Operaciones capitn Harry C. Strawn Jr.
Captain Harry C. Strawn Jr.
Operations Officer
7202 Whipple St., Swissvale, Pittsburg, Pa.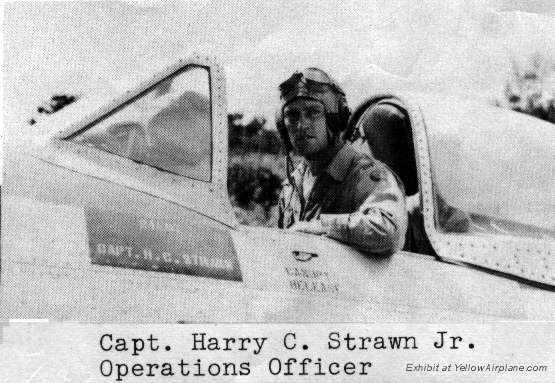 8 June 2010
I located this picture on your web site. This man is my grandmother's older brother, my great uncle. He passed away about 8 years ago. Where did you find this photo? Do you have a higher quality version of this scanned that I could have so that I can print it and frame it? Also, I didn't know that he flew in the Asian theater. I do know that he flew in North Africa, France (where he earned the Flying Cross) and towards the end of the war the German's shot him down over Germany. He told me the story once about how he earned the flying cross, but the details are fuzzy, he told it to me a long time ago. I don't suppose you know how to find out the stories/military records behind the awards of the Flying Cross? Thanks,
Scott R. Ellis, EnCE
Photo Scanned by C. Jeff Dyrek
Photo of Captain Harry C. Strawn Jr. The Operations Officer of the 34th fighter Squadron in WW2 Ie Shima, Okinawa. The 34th Fighter Squadron was a P-47 Squadron that came to Ie Shima from Bluethenthal Field, North Carolina in 1945. The Fighter Squadrons function was ground support and bomber cover.
Harry Strawn also served in the North African Theater, Army Ari Force in the 31st Fighter group of the 12th Air Force and in the 34th Fighter Squadron part of the 413th Fighter Group of the 14th Air Force.

War Heroes, More photos of Harry Strawn
Y-I-BET on the Youth of America.

Youth Innovative Business Environment Training.

A Better way for kids to learn about technology, aviation and industry. This is an extensive exhibit that had hundreds of hours and tens of thousands of dollars put into making it. The original concept of the Y-I-BET Program was designed by C. Jeff Dyrek and Robert Muse.
Look at these exhibits and tell me what these men really fought for.
the 34th fighter Squadron
USS Kitty Hawk
About the Webmaster, Why God Send Me to the North Pole

/34th/34th_Pic114.html|21072"