Go To Yellow Airplane Home
Book Reviews
North American B-25 Mitchell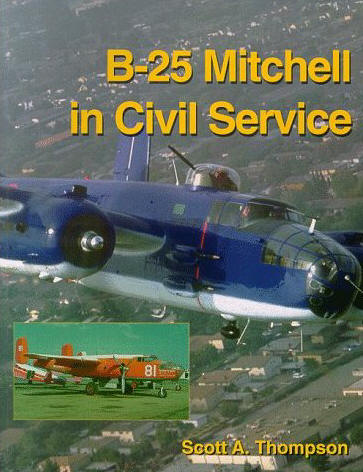 Click Here to Buy
the North American B-25 Mitchell
Paperback Book
by Frederick Johnsen

B-25 Mitchell Movies B-25 Models B-25 Books
Airplane Books * Airplane Videos * Airplane Models
Camaros for Sale * Aircraft Calendars * Jet Fighter Models
Book Review
0933424779North American B-25 Mitchell
(Warbirdtech Series , Vol 12)
Frederick, A. Johnsen / Paperback / Published 1997

Paperback - 100 pages (November 1997)

Book Description
This is the first and only series to take a technical look at some of the world's most exciting combat aircraft. Each volume emphasizes the unique, the groundbreaking, and the technical characteristics of each aircraft.

Go back to the Stores Front Door | Fly to the Airplane Books Index

Veterans Read This
Do you like adventure?
Then take a trip with us to the North Pole next April.
I will be there too will be glad to meet you.
Links to the B-25 Mitchell and Doolittle's Raids
Museum of San Francisco History by Date
USS Salt Lake City (CA-25) assisted in Doolittle's raids
Thirty Seconds Over Tokyo (1944)
the Account of Jimmy Doolittle
and the B-25 Mitchell bomber
34th Fighter Squadron Exhibit
Take a tour of an operational WW2 fighter squadron stationed on the Western Pacific Island of Ie Shima. This is a historical event showing the complete fighter operation from the Mess Hall to the P-47 in flight. You can also see the Japanese Surrender Delegation visit the Island.