Go To Yellow Airplane Home
A Real Good War
A story about the WWII Air War
in a B-17 Flying Fortress Bomber

If you want to know what the WWII air war was like, the blood, fire, death,
and Hell, for American Boys, then this is the book to read.
Survival Equipment - Survival Supplies
Airplane Books * Airplane Movies * Airplane Models * Video Games
Camaros for Sale * Aircraft Calendars * Model Building Tools * Aviation Exhibits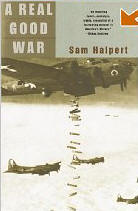 Click Here to Buy the book, A Real Good War
Paperback Book
ISBN-10: 0385496184
B17 Books * B17 Flying Fortress Movies * B17 Models
This grippingly authentic autobiographical novel about a B17 bomber crew takes us to the last months of the WWII air war, when hastily trained bomber crews -- young men, in many cases barely out of high school -- flew mission after mission out of English airfields against vital and most heavily fortified industrial sites in Germany. A Real Good War, Sam Halpert's long-delayed fictional debut at age seventy-seven, renders the experience in muscular prose that enables the reader to taste the terror of flying these missions through heavy barrages of flack, through impenetrable fog, often in crippled aircraft bearing wounded or dead bodies. As his crew carries out their brutal duty with humor and despair, fear and courage, coping with ever-mounting causalities, the young navigator who tells the tale learns the real meaning of war.
Airplane Books * Airplane Movies * Airplane Models
Camaros for Sale * Aircraft Calendars * Jet Fighter Models