Piper Aircraft Models

Build these beautiful airplanes or display them on your desk


Aircraft Tools

Piper PA-16 Clipper Models Piper J-2 Models Piper Grasshopper Models Piper Cub J-3 Models Piper Cub J-3 RC Models Piper Cub J-3 Plans Piper L-4 Models Piper J-4 Models Piper J-5 Models Piper Super Cub Models Piper Sportcub Models Piper Wall Clocks Piper Apache Models Real Piper Apache Parts Piper Cherokee Models Piper Seneca Models Piper Tri-Pacer Models Piper Colt Models Piper Pawnee Models Piper Matrix Models Piper Malibu Models Piper Metisse Models Piper Tomahawk Models Piper Mirage Models Piper Aztec Models Piper Warrior Models Piper Navajo Models Piper Warrior Models Piper Seminole Models Piper Saratoga Models Piper Skycycle Models Piper Super Cruiser Models Piper Tulak Models Piper Arrow Models Piper Lance Models Piper Aerostar Models Piper Cheyenne Models Piper Chieftain Models Piper Comanche Models Piper Archer Models Piper Vagabond Models Piper Dakota Models Piper Enforcer Models Piper PA-46 Models Piper Brave Models Piper Piperjet Models Piper Floatplane Models Piper Wall Clocks


Many More Piper Lapel Pins Here

src="images/Piper_Super_Cub_AirplaneMinicraft Models Piper Super Cub 1/48 Scale" border="0" height="141" width="250" align="left" hspace="10" vspace="4">
Piper Super Cub
One of the most popular sport planes of all time, the Piper Cub introduced legions of new pilots to the airways. The Super Cub is an advance version of the original Taylor Cub, from which Pipers planes were developed. This plane was frequently the choice of bush pilots, who added floats, skis, or huge donut-like tires for landing on glaciers.
0009255HSPACE=10 VSPACE=2 BORDER=0 height=451 width=300 align="left">

0009255
Piper J-3 Cub 1/24 Scale Model
Pre Built Mahogany Model
0009255
Made of Philippine mahogany, this 1/24 scale model measures 11¼" in length and has a wingspan of 16½". Hand painted and detailed, model comes ready to display on the included mahogany base. .....#0009255

Piper PA-46 Malibu

0008553HSPACE=10 VSPACE=2 BORDER=0 height=194 width=300 align="left">0008553
Piper PA-16 Clipper Balsa Wood Model Airplane Kit
0008553
Appearing in 1949, the Clipper was a 4-place short-wing aircraft known for its gentle and predictable flight characteristics. Build your own flying version of this icon of general aviation. This true-scale kit features all laser cut parts; high quality balsa wood; and is suitable for rubber powered or electric flight. Completed model has a 23½" wingspan; assembly required. .....#0008553 3
Aeronca Champ Balsa Wood Kit" 176"0008900border="1" hspace="10" vspace="4" width="300" height="97" align="left">0008900
Aeronca Champ Balsa Wood Kit

Aeroncas have been a common site at American airports for many years and rival the Piper Cubs for popularity. 1/18 scale kit of balsa wood and tissue paper has a 24" wingspan when completed. For display, electric-, gas-, or rubber-powered flight; assembly required.
#0008900

Piper Cherokee 1/48 Kit" 187"0009147border="0" hspace="10" vspace="4" width="300" height="160" align="left">0009147
Piper Cherokee 1/48 Kit

Plastic model kit accurately reproduces one of the most popular personal aircraft flying. Includes detailed interior and clear windshield, faithfully reproduced landing gear, engine assembly, decals, display stand and more. Measures 5?" in length with a 7?" wingspan; skill level 2.
#0009147
2
0008931
Piper Cherokee 140 Balsa Kit
Balsa Wood Kit
0008931
Fast, maneuverable, with a modern low wing and "total handling ease", the all-metal Piper Cherokee 140 has been a common sight airports all over the country. Now you can build your own version of this popular aircraft with this balsa wood and tissue kit. For display, gas, or rubber-powered flight. 20" wingspan when complete; assembly required. .....#0008931
Portals Into the Sky" 172"0049541border="1" hspace="10" vspace="4" width="250" height="198" align="left">0049541
Portals Into the Sky

A Collection of Vintage Cockpit Photographs.
Cilio. This photo-history takes you into the cockpit of vintage airplanes to view the instruments and controls.
You'll enter the Aeronca Champion, Beechchraft Bonanza Model 35, Bellanca Skyrocket, Boeing B-17 and B-24, Cesnna 172 Skyhawk, Convair 340, de Havilland DHC-2 Beaver, McDonnell Douglas DC-3 and -6, Grumman F6F Hellcat, Hughes H-4 Hercules, Lockheed P-38 Lightning and Constellation, North American P-51 Mustang, Northrop P-61, Piper J-3 Cub, Republic P-47 Thunderbolt, Sikorsky S-38, Stinson 108, and many others. 112 pages, 160 B&W photographs and illustrations, 11"x 8?", softcover #0049541 2
0008901HSPACE=10 VSPACE=2 BORDER=0 height=96 width=300 align="left">0008901
Piper Super Cub Balsa Wood Kit
Balsa Wood Model Kit
0008901
An authentic scale model of the Piper Super Cub 95, one of the most popular in a long line of personal planes manufactured by the Piper Aircraft Corporation. 1/18 scale kit of balsa wood and tissue paper has a 24" wingspan when completed. For display, electric, gas, or rubber-powered flight; assembly required. ....#0008901 2

Ready to Fly, Electric Motor, Radio Controlled Airplanes.

Piper Super Cub Radio-Controlled Airplane" 0092910border="1" hspace="10" vspace="4" width="400" height="261" align="left">0092910
Piper Super Cub Radio-Controlled Airplane

This giant, ready-to-fly, radio-controlled Piper Super Cub combines the classic lines and gentle flying manners of its legendary namesake for a superb flying experience. Best of all, this Super Cub comes with everything you need, including:
* A pre-installed 1144kV brushless outrunner motor with electronic speed control
* Three micro servos for control of rudder, elevator and aileron
* Durable foam construction with pre-applied decals
* A one-piece wing with functional struts and molded ribs for scale authenticity
* A detailed cockpit with an instrument panel and tinted, plastic windows
* Main landing gear with working suspension, plastic wheel pants and a steerable tail wheel
* A rechargeable 11.1V, 1300mAH LiPo battery pack for long flight times
* An ElectriFly balancing LiPo charger with AC and DC adapters
You also get:
* A 4-channel, Tactic TTX404 2.4GHz radio transmitter with a wireless trainer function and spread spectrum technology for interference-free control
* 4 AA batteries for the transmitter
* An instruction manual
* And more!


48" wingspan;

minimal assembly required.
Purchase an additional 11.1V 1300mAh LiPo battery (item #65538) to take your Piper Super Cub for a second flight without waiting to recharge! #0092910 259.00

11.1V 1300mAh LiPo Battery" 175"0065538border="0" hspace="10" vspace="4" width="200" height="107" align="left">

0065538
11.1V 1300mAh LiPo Battery

With this battery pack, you can take your radio-controlled Piper Super Cub (item #92910) for a second flight without waiting to recharge! #0065538

Piper J-3 Cub Radio Controlled Airplane" 0093115border="0" hspace="10" vspace="4" width="300" height="142" align="left">0093115
Piper J-3 Cub Radio Controlled Airplane

Take off into the wild blue yonder with this electric, ready-to-fly, radio-controlled Piper J-3 Cub! Combining the classic design and gentle flying manners - with full 4-channel control! - of its legendary namesake, this model includes everything you need for the ultimate R/C experience.
You get:
* A pre-installed 380 motor.
* A 4-channel, Tactic TTX440, 2.4GHz radio with adjustable trims and electronic speed control.
* An 8.4V, 1100mAh NiMH battery for 8-10 minute flight times.
* A 12V field charger.
* Single stick controls for rudder and throttle and aileron and elevator.
* Durable foam construction and a spare propeller.
* Heavy-duty aluminum landing gear with foam wheels.
* Authentic markings.
* Instructions.
* And more!
Requires eight AA batteries for the transmitter. 36" wingspan; minimal assembly required.
#0093115
Mini Piper Super Cub Radio-Controlled Airplane" 0094920border="0" hspace="10" vspace="4" width="300" height="1157" align="left">


0094920
Mini Piper Super Cub Radio-Controlled Airplane



Now's the time to enter the world of R/C flying! This ready-to-fly, radio-controlled model of a Piper Super Cub combines the classic lines and gentle flying manners of its legendary namesake for a superb flying experience.
Best of all, this Super Cub comes with everything you need at an incredibly low bargain . You get:
* A pre-installed geared and brushed 180 motor that allows for fast climbs and exciting maneuvers
* A rechargeable 7.4V, 300mAh LiPo battery for 5-8 minute flight times
* A 3-channel, 27MHz FM transmitter with a 1,300-foot range and fully proportional elevator, rudder and throttle control for precise flying and maneuverability
* A 12V DC balancing charger
* Exclusive Anti-Crash Technology that utilizes optical sensors and software to monitor the aircraft's position and ensure smooth and steady flying right from the start


* Durable foam construction
* A one-piece wing
* Four AA batteries for the transmitter
* A Learn to Fly DVD with assembly instructions and flying tips to make sure that getting started is easy
* And more!
31?" wingspan.
#0094920
1

Micro Piper Super Cub Radio-Controlled Airplane" 0093126border="0" hspace="10" vspace="4" width="300" height="434" align="left">0093126
Micro Piper Super Cub Radio-Controlled Airplane

Now's the time to enter the world of R/C flying! This ready-to-fly, radio-controlled model of a Piper Super Cub combines the classic lines and gentle flying manners of its legendary namesake for a superb flying experience.
Best of all, this Super Cub comes with everything you need at an incredibly low bargain . You get:
* A pre-installed motor
* A rechargeable 3.7V, 130mAh LiPo battery for 8-10 minute flight times
* A 4-channel, 2.4GHz TTX402 transmitter with fully proportional elevator and rudder control for precise flying and maneuverability
* A built-in charger
* Durable foam construction
* Realistic wing struts and a tail wheel
* Five AA batteries for the transmitter
* Instructions
* And more! 17?" wingspan.
Purchase an additional 3.7V 123mAh LiPo battery (item #65532) to take your Piper Super Cub for a second flight without waiting to recharge!
#0093126

More RC Airplanes Here

0009235align="left" border="0" height="187" hspace="10" vspace="2" width="250">0009235
Fi-156 Storch 1/72 Kit
Plastic Model Airplane Kit.
0009235

Serving much the same liaison and artillery spotting missions for the German Army as did the Piper L-4B for the USAAF, the Fi-156 Storch's most famous mission was the daring rescue of Benito Mussolini from an Italian stronghold in the Alps. Detailed plastic kit features recessed panel lines, textured representation of fabric covered panels, realistic cockpit and separate wing flaps and leading edge slats. Includes optional noses and canopies for two variants - the Argus-powered Fi 156 or radial-engined MS 500/502. Includes 64 pieces; 7 ?" wingspan when completed. .....#0009235 1
Piper Aircraft Gifts
"Authorized Piper Cub Dealer" Sign" 173"0007941border="0" hspace="10" vspace="4" width="200" height="269" align="left">
0007941
"Authorized Piper Cub Dealer" Sign

Handcrafted in the USA, this high quality porcelain-on-steel sign is made with the same old world finishing process popularized in the early 1900s. 9"x 12"; includes mounting holes.
#0007941


Crop Dusters - DVD" 179"00V8887border="0" hspace="10" vspace="4" width="250" height="353" align="left">
00V8887
Crop Dusters - DVD

1921 Thru 1955
Follow the progression of the crop dusting industry from the hand pump and donkey cart to the high-powered planes of the mid-1950s. You'll see vintage film of Curtiss Jennys, de Havilland D.H.4s, Piper Cubs, Stearman biplanes and others, including the only known color footage of Cutback Cubs on the job, dusting and spraying. "A video of historical value that completes a part of America's aviation history that many of us have overlooked." - Flight Video Review. 1 hr. 15 min.
#00V8887


Paul Matt CD-ROM, Vol. 4" 186"0010383border="0" hspace="10" vspace="4" width="250" height="255" align="left">
0010383
Paul Matt CD-ROM, Vol. 4

This collection of Paul Matt images includes drawings and photos from the Pioneer, WWI, Golden Age, WWII, Classic and Modern eras. With this CD-ROM, you'll be able to crop, enlarge, zoom and print all of the drawings and photos. There are 31 aircraft listed alphabetically, from the Piper J-3 "Cub" to the Wright-Martin V, 453 total images.
#0010383
2
Army L-4 and L-19 Liaison and Birddogs - DVD" 177"00V5090border="0" hspace="10" vspace="4" width="300" height="211" align="left">00V5090
Army L-4 and L-19 Liaison and Birddogs - DVD

Documenting early U.S. Army light aircraft in liaison, recon, transport, and other roles, this collection of five historic films presents contemporary and archival footage of L-4 Piper Cubs, L-19 Cessnas, and more. You get Pre-Flight Check of L-4, Piper Cub, an army film that presents proper pre-flight walk-around procedures; The Birddog, which discusses the many uses of the L-19; L-4 Grasshopper, which shows footage from the Pacific and European theaters where the little Grasshopper provided support; Cessna L-19: Photo Joes and Mail, which examine photo recon and even mail missions; and German Fi 156 Storch, which shows footage of Germany's own famous liaison aircraft. B&W, 1 hr. 40 min.
#00V5090
1
0006650
Cub Propeller Clock
Large Scale Wall Clock
0006650
This magnificent three-quarter scale propeller replica captures the charm of a vintage Piper Cub while being a useful piece of d?or with a clock mounted in the hub. Meticulously constructed of high-grade hardwood, it features red tips, genuine Piper Cub decals and a hand-rubbed finish.

Propeller measures 52" with a 3?" diameter clock.

Requires one AA battery (not included).
0006650

0060200HSPACE=10 VSPACE=2 BORDER=0 height=248 width=300 align="left">
0060200
Piper Cub Hat.
0060200
This embroidered hat captures the nostalgic Piper Cub logo with remarkable detail. 100% cotton hat features adjustable strap with buckle. .....#0060200
Piper Cub Embroidered Hat" 189"0060236border="0" hspace="10" vspace="4" width="300" height="312" align="left">

0060236
Piper Cub Embroidered Hat

This navy blue hat features an embroider Piper Cub whose detail is so fine it even includes the Cub logo on the tail! 100% cotton; includes an adjustable strap with a buckle for perfect sizing.
#0060236


0060168HSPACE=10 VSPACE=2 BORDER=0 height=272 width=300 align="left">
0060168
Piper Cub Hat.
0060168
This distinctive, high quality black cap features a beautifully detailed brass emblem with a profile of the beloved Piper Cub, six brass eyelets, a pre-curved peak and a matching adjustable strap with brass buckle. .....#0060168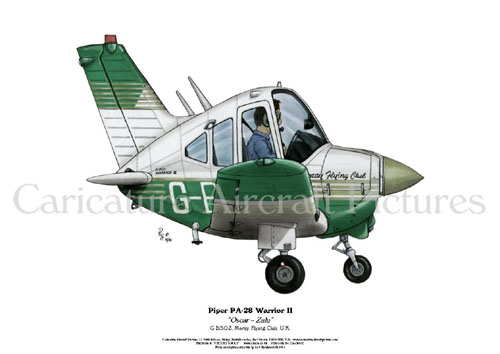 Aviation Art Prints measure approx.12"x16.5"(297mm x 420mm) and are printed on 240gsm card.
WANT YOUR SQUADRON'S AIRCRAFT TRANSFORMED INTO A CARICATURE PRINT?
No matter what you fly, a caricature print can be made of your aircraft! There is a one-off charge for the production of each new caricature profile created, and discount s are available for bulk orders of prints (minimum print order quantity applies) We also have all kinds of aircraft prints already made at a very low . Here to find out More.
Piper Cub Banner" 188"0062443border="0" hspace="10" vspace="4" width="300" height="332" align="left">

0062443
Piper Cub Banner

Show your love for one of the most popular and best-known light aircraft of all time! Featuring the famous logo found on the vertical fin of Piper J-3 Cubs, this premium quality, canvas banner has reinforced edging and brass lugs. 22"x 25".
#0062443


L-Birds" 184"0005630border="1" hspace="10" vspace="4" width="200" height="260" align="left">
0005630
L-Birds

American Combat Liaison Aircraft of World War II
Love. A great book on the seldom-told story of WWII liaison aircraft, known affectionately as "L-Birds" to military personnel. Along with an historical background explaining the multiple roles of these aircraft, you also get complete specifications for the most significant models including the Stinson L-1 and L-5, the Taylorcraft L-2 Grasshopper, the Aeronca L-3, the Piper L-4 and more... all the way up to the L-12. Carrier operations and unit histories are also included. 96 pages, 145 B&W photographs, 10 color profiles and more. 8?"x 11", softcover.
#0005630

0002101HSPACE=10 VSPACE=2 BORDER=1 height=265 width=200 align="left">
0002101
Piper Cub J-3 Service Manual.
Spiral Bound Book.
0002101
Reprint of original manual with all of the drawings. 12 pages of service information and 8 double fold out pages of drawings. 8½"x 11", spiral bound. .....#0002101
Inside 50 History-Making Aircraft" 183"0040414border="1" hspace="10" vspace="4" width="250" height="312" align="left"> 0040414

0040414
Inside 50 History-Making Aircraft
In the Cockpit

Bell. The Smithsonian National Air and Space Museum holds the country's premier collection of historic aircraft, but visitors must view these impressive structures at a distance. This lavishly illustrated volume takes you into the cockpit to give you a true pilot's eye view of many of history's most important domestic and military airplanes and helicopters. You view the interior of the 1917 German Halberstadt CL.IV ground-attack aircraft; the 1927 Lockheed Vega monoplane; the famous 1937 Piper Cub; World War II aircraft such as the American F4U Corsair, British Hawker Hurricane, Japanese Ki-45 "Nick," and German Ju 388; the Cold War's Soviet MiG-15 jet fighter; the Concorde airliner; and many others. Includes a foreword by John Travolta. 144 pages, 120+ color and B&W photographs, 8"x 10", hardcover.
#0040414
2
0018104HSPACE=10 VSPACE=2 BORDER=1 height=350 width=250 align="left">
0018104
Wichita's Legacy of Flight.
Images of America
Softbound Book
0018104
Known as the "Air Capital of the World," Wichita, Kansas has been associated with aviation longer than any city in the world. This photo-essay follows its progress from a "cowtown" to the early days of Clyde Cessna's daring aerial feats and his successful aircraft company, which inspired Stearman, Travel Air, Piper and others to form. From there, the industry in Wichita even branched into military aviation and aerospace, retaining its leadership position even today. 128 pgs., 195 B&W photos, 6½"x 9¼", sfbd. .....#0018104