Y-I-BET
On the Youth of America
Youth Innovative Business Environment Training
Places That We Have Visited
and Field Trips that we have taken
The Bloomington Airshow7-8-2000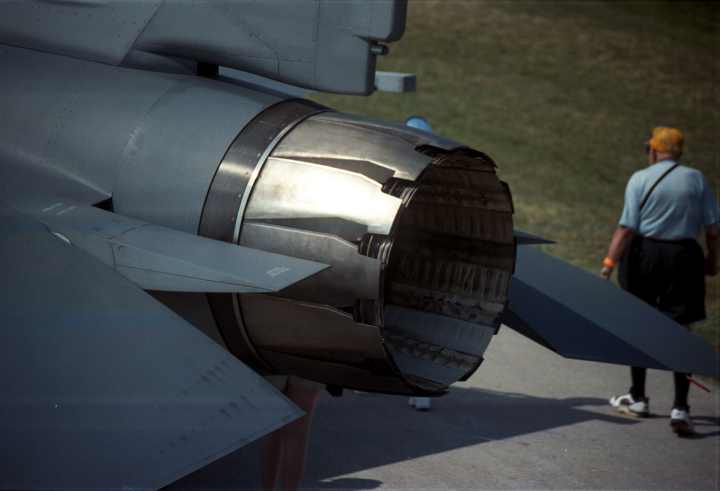 These are the turkey feathers which are actually a variable exhaust nozzle which changes with the amount of power applied and afterburner operation. The kids in our group have seen afterburners in operation many times at other airshows and in the movies. When watching our movies before going to the air show, I pointed this out saying to watch the size of the exhaust change. Other key phrases that I use are, Look at the afterburners, He's using the speed brakes, and he's doing a roll, to name a few. These phrases combined with movies and air shows in a spaced repetition, train the kids without any of the text book effort involved. They don't even know that they are being educated, but they are and they are having fun at the same time.
Yellow Airplane Gives You the Best Source of Airplane Models, Airplane Books, Airplane Movies, Aviation Art, Aircraft Calendars, Airplane Tools, Exhibits and MORE!
Click Here for Jaguar Sports Cars for Sale
Click Here to go to the YellowAirplane Online Museum
or Bible Gateway, Read Almost any Bible, In Any Language, For Free, Great Search.

Look at these exhibits and tell me what these men really fought for.
34th Fighter Squadron Willow Run B-24 Liberator Production Exhibit
Read the Webmasters Story, "Why God Sent Me to the North Pole." You will Be Surprised.
/Y-I-Bet/YIBET_7-7--2000_Bloomington_Airshow_10.html|26976"
Copyright Dates: