Shaboo Training the Seabees.
Former Local Wrestler Giving Super Judo Instruction in Central Pacific Area -- Ed (Hewitt) Hoot Aiding Him in Mat Shows.
Eddie Shaboo well known in local wrestling circles years ago. is now in charge of the "Super" Judo program for the Seabees in the Central Pacific area, and recently drew high praise in the Honolulu Star-Bulletin. J. Gordon Mullings, formerly the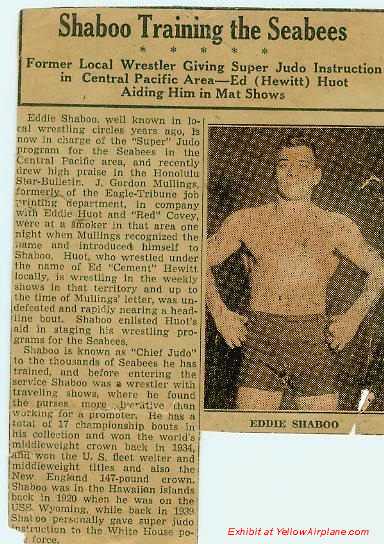 Eagle-Tribune job pringting department. In company with Eddit Huot and "Red" Covey, were at a smoker in the area one night when Mullings recognized the name and introduced himself to Shaboo. Huot, who wrestled under the name of Ed "Cement" Hewitt. Locally, is wrestling in the weakly shows in that territory and up to the time of Mulling's' letter, was undefeated and rapidly nearing a head line bout. Shaboo enlisted Huot's aid in staging his wrestling programs for Seabees.
Shaboo is known as "Chief Judo" to thousands of Seabees he has trained, and before entering the service. Shaboo was a wrestler with traveling shows, where he found the purses more lucrative than working for a promoter. He has a total of 17 championships bouts in his collection and won the world's middleweight crown back in 1934, and won the U. S. Fleet. Welter and the middleweight titles and also the New England 147-pound crown. Shaboo was in the Hawaiian Islands back in 1920 when he was on the USS Wyoming, While back in 1939 Shaboo personally gave super judo instruction to the White House police force.