Ferrari 335 Spider - Berlinetta
Ferrari Granturismo Automatic Watch
All Ferrari Watches Here
All Ferrari Hats Here
All Ferrari Shirts Here
All Ferrari Jackets Here
All Ferrari Helmets Here
All Ferrari Gloves Here
All Ferrari Rings Here
All Ferrari Cufflinks Here
All Ferrari Hat & Lapel Pins Here
All Ferrari Wheels Here
See a whole list of Ferrari Sport Car Types here.
Ferrari Sports Cars Home Page Other Sports Cars for Sale
Ferrari 246 Ferrari 250 Testa Rossa
Ferrari 308 Ferrari 330 Ferrari 335 Spider - Berlinetta Ferrari 360 Modena
Ferrari 430 Scuderia - Spider Ferrari 456 GT - GTA Ferrari 458 Italia
Ferrari 550 Barchett Ferrari F12 Berlinetta
Ferrari Sports Cars for Sale, New and Used, Fine Sports Cars Sales, The California Dream is ready for you. Imagine driving on of these fine Ferraris. You will have the power at your fingertips and every eye will turn toward you. When you get out of your car, people will know that you are someone important and someone who had something going good in your life. It really does make a difference.
The Ferrari 246 GTS
Ferrari 246 GTS Sports Cars For Sale Here
Production years 1972 - 1974 released at 1972
Geneva Motor Show built at Maranello, Italy production 1274 engine V6 valve
train DOHC 2 Valves / Cyl displacement 2418 cc / 147.6 in bore 92.5 mm / 3.64
in stroke 60 mm / 2.36 in compression 9.0:1 power 145.4 kw / 195.0 bhp @ 7600
rpm specific output 80.65 bhp per litre bhp/weight 180.56 bhp per tonne driven
wheels Mid Engine / RWD steering Rack & Pinion curb weight 1080 kg / 2381
lbs wheelbase 2340 mm / 92.1 in front track 1425 mm / 56.1 in rear track 1430
mm / 56.3 in length 4300 mm / 169.3 in height 1150 mm / 45.3 in transmission
5-Speed Manual. 3 Dual Throat Weber 40DCF12 Carburetors.
Enzo Ferraris son Alfredo, also
known as Dino, was a proponent of small-displacement, 6-cylinder technology.
After earning his engineering degree, he began development of a V6 racing
engine. After Alfredos tragic death, Enzo directed the legendary engineer
Vittorio Jano to finish Dinos work to honor his sons memory. A series of
successful engines was developed that ultimately powered various Ferrari
Formula 1 and 2 cars, as well as sports racers.
Ferrari later built a prototype
sports car, the Dino 206 GT, which was put into production in 1968. Powered by
a 180-horsepower, 1,986-cc V6 engine, it was Ferraris first mid-engine
production car and represented the debut of a new, Ferrari-based Dino brand. In
1969, the V6 was enlarged to 2,418 cc, and the output increased to 195
horsepower. This engine became the Dinos ultimate evolution, the 246 series.

These are a sample of the options that are found in a Ferrari

Comfort
Keyless Entry
Air Conditioning
Tilt Wheel
Power Steering
Climate Control
Power Driver Mirror
Power Passenger Mirror
Steering wheel controls
Safety
Traction Control
Driver Air Bag
Power Door Locks
Vehicle Anti-Theft System
Fog Lamps
Cell Phone Hookup
Alarm
Anti-Lock Brakes
Passenger Air Bag
Active Suspension System
Electronic Stability Control
Seat
Leather Seats
Power Driver Seat
Bucket Seats
Power Passenger Seat

Sound System
Entertainment System
Premium Sound
AM/FM Stereo
CD Changer
CD Player
Windows
Rear Window Defroster
Power Windows

Other Features
Alloy Wheels
HID Headlights
Tinted Glass

Ferrari 335 Series
Ferrari 335 Berlinetta, the 335 Spider and the 355 GTS - 1994 - 1999
Mid Engine, rear wheel drive 3.5 Liter 5 valve per cylinder V8
375 hp, 11:1 compression ratio. Titanium alloy forged connecting rods Ti6-AI-4V alloy.
Comes in Coup, Targa, or Convertible
Tire Sizes are 224/40ZR 18 Front, 265/40 18 Rear.
11,273 Cars were produced.
0-60 mph 4.6 seconds
1/4 Mile 12.9 mph
Top Speed 193 mph
See a whole list of Ferrari Sport Car Types here.
Ferrari Granturismo Automatic Watch
All Ferrari Watches Here
Ferrari Scuderia Watches Here
All Ferrari Hats Here
All Ferrari Shirts Here
All Ferrari Jackets Here
All Ferrari Helmets Here
All Ferrari Gloves Here
All Ferrari Rings Here
All Ferrari Cufflinks Here
All Ferrari Hat & Lapel Pins Here
All Ferrari Wheels Here
Ferrari 360 Series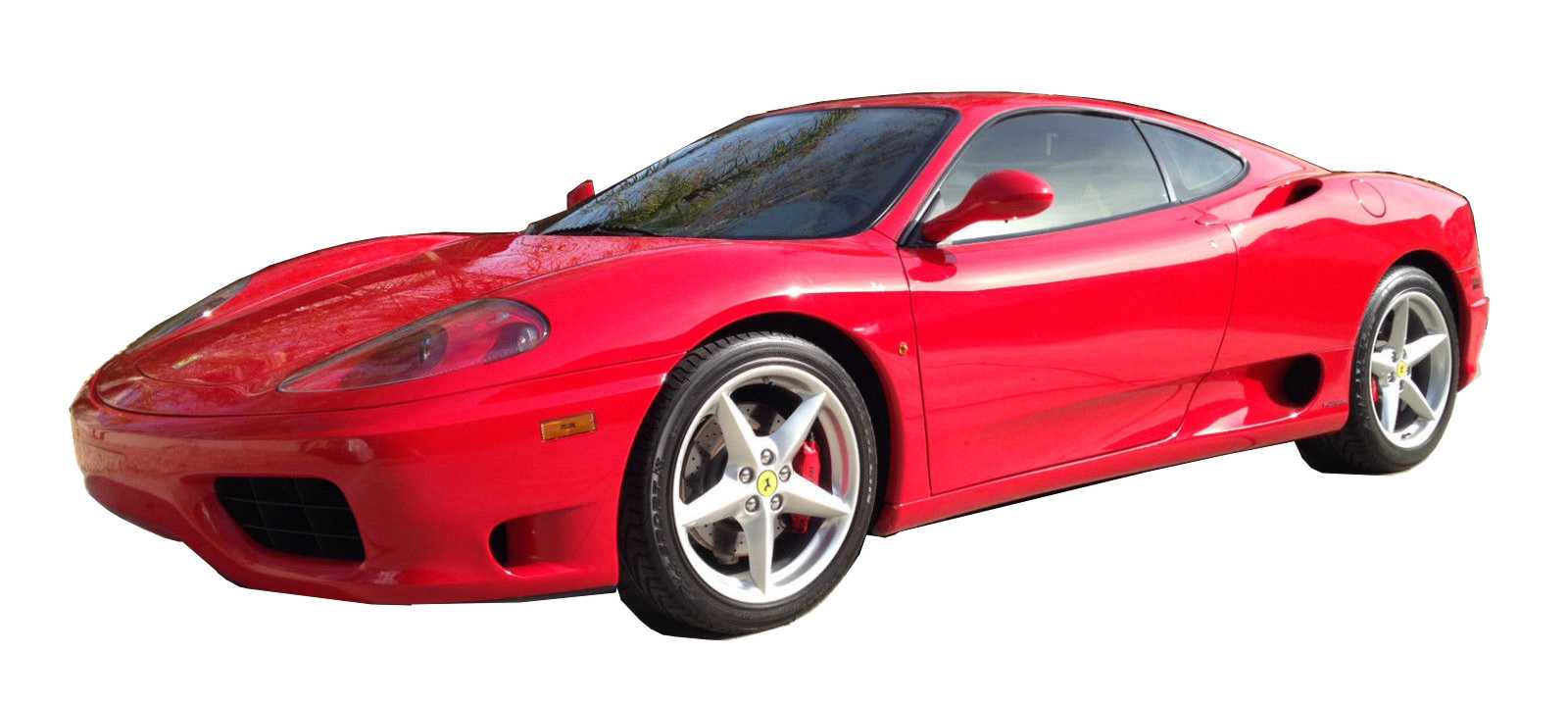 The Ferrari 360 Mondena Coup
Ferrari 360 Coupe - 1999
Ferrari 360 Modena Rosso Fiorano - 1999
Ferrari 360 Spider - 2000
Ferrari Spider 360 - 2004
3.6L 3586CC V8 GAS DOHC Naturally Aspirated
Ferrari 430 Series
Ferrari 430 Berlinetta - 2005, 2006
Engine: 4.3L 4308CC V8 GAS DOHC Naturally Aspirated
2-DOHC 40-Valve
Ferrari 430 F1 Spider
4.3L 4308CC V8 GAS DOHC Naturally Aspirated
Ferrari 430 Scuderia Spider - 2009
Ferrari F430 F-1 Spider - 2007
Engine: 4.3L 4308CC V8 GAS DOHC Normally Aspirated
Ferrari 456 Series
Ferrari 456 GT and GTA models
1992-2003
Front Engine Grand Touring Car four passenger
5.5 Liter 65 degree V12 Engine
436 hp 4 valves per cylinder
0-60 5.2 seconds, 1/4 mile in 13.4 seconds, top speed 188 mph
3,289 Cars were produced.
Ferrari 550 Series
Ferrari 550 Maranello - 1996
5.5 L (5474 cc) engine
front-engined V12 coupe with a 6-speed manual gearbox of the car which was in-line with he driven wheels. The model name "Maranello" is the name of the town where Ferrari's headquarters are located. The 550's engine produced 485 hp at 7000 RPM and 419 Ft Lbs of Torque at 5000 RPM. The Ferrari 550 Maranello accelerates from 0 to 60 in 4.2 seconds and has a 1/4 mile time of 12.5 seconds and 116.9 MPH. The 550 reached a top speed of 199 MPH.
Ferrari 550 Barchetta - 2000
The Ferrari 550 Barchetta was introduced in the year 2000 at the Paris Motor Show. There were 448 Barchetta 550s produced.
Ferrari 550 Barchetta Pininfarina - 2000
Ferrari 458 Series
Ferrari 458 Italia Sports Cars For Sale
Ferrari 458 Italia - 2009, 2010, 2011
The Ferrari 458 Italia replaced the Ferrari F430 and was offically unveiled at the September 15th 2009 Frankfurt Germany Motor Show. The 458 Italia uses a 4.5 Liter V8 engine which came from a shared Ferrari - Maserati design which produced 562 hp at 9000 RPM at redline, with an amazing 398 foot lbs of torque at 6000 RPM.
This Ferrari 458 Italia held the record for the higest specific output of a normally aspirated gasolene engine in any production road car ever produced. The 458 Italia's acceleration from 0 to 62 mph is 3.3 seconds and Ferrari's test have shown that the Italia can stop from 62 mph to zero in only 90 feet. With all of this power the Ferrari 458 Italia will run at 202 mph top speed with an amazing fuel mileage of 21.2 MPG at 62 mph.
The Ferrari 458 Challenge
Not for street use: First shown at the Ferrari Annual Dealer Meeting on Jul 14th 2010, the Ferrari Challenge Racer had its weight reduced under the standard model by the use of thinner body panels, polycarbonate windows and windshield and carbon fiber replacement panels.
IN 2011 Ferrari unveiled it's 458 Spider at the Frankfurt Motor Show. This new version of the 458 Italia is a convertible which features a all aluminum retractable hardtop which weighs 55 pounds less than the regular soft roof which found on earlier Ferrari sports cars. The 458 Spider has the same acceleration times as the hardtop but a three mile an hour top speed of 199 mph.
The Ferrari 458 Italia Special Edition, released in 2012 is a limited version of the Ferrari 458 Italia for the Chinese Market with only twenty units made. This Special Edition sports car commeorates the 20th Anniversary of Ferrari first being sold in Chins with its 348 TS which was ordered in Beijing. See a whole list of Ferrari Sport Car Types here.