WW2 Japanese Magazine ASAHIGRAPH 1943-12-01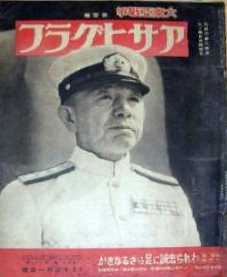 This is a military magazine issued in World War II in Japan. The name of the book is ASAHI GRAPH. An internal title is as follows. Secretary of command of KOGA union fleet. Transition of Solomon zone of battle. Military goods production increase. The cover "Secretary of command of KOGA union fleet"
to See World War 2, Japanese Propaganda Art Exhibit
Here to See the True Surrender of the Japanese In World War 2
Here for a list of WW2 Fighter Groups
Here to go to the YellowAirplane Online Museum
or Bible Gateway, Read Almost any Bible, In Any Language, For Free, Great Search.


Look at these exhibits and tell me what these men really fought for.
The 34th fighter Squadron WW2 Exhibit USS Kitty Hawk Aircraft Carrier Exhibit.
Read the Webmasters Story, "Why God Sent Me to the North Pole." You will Be Surprised.

her to see how I have to live and what it looks like to be a disabled Vet.
/WebSite/MISC/JapaneseWW2/WW2JapaneseMagazine12-01-1943.html|19900"