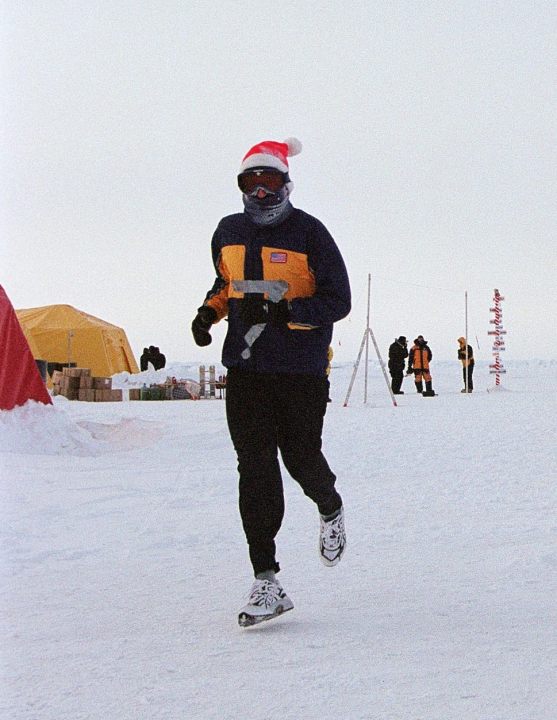 Photo By Global Expeditions
Paul Ruesch - USA


Paul became interested in marathons after running the Chicago
Marathon in 1994. Inspired by the energy of the event, fascinating
people, and wonderful places, he went on to complete marathons
on all seven continents by the year 2000.
Paul raced penguins down a glacier and skillfully dodged a
territorial (and slightly agitated) walrus in Antarctica. His longest
run (by accident) was the Himalayan Stage Race when, having
gone to India to run the Everest Challenge Marathon, he was
surprised to learn that the marathon was actually stage 3 of a 5
day loop.
Paul has had a number of truly unique marathon experiences.
Clad in a Chicago Bulls basketball uniform, he joined the French in
drinking dozens of glasses of wine while dribbling and passing a
basketball back and forth with a friend during the Medoc
Marathon. In New Zealand, after a night of drinking on New Year's
Eve, instead of going home to sleep off a hangover, he ran the
Millennium Marathon at daybreak. Meanwhile, in Africa he was
nearly lapped by the Tanzanian Olympic Running Team in the Mt.
Kilimanjaro marathon a day after descending from the mountain.
Most recently, Paul outran Maoist insurgents down from the Mt.
Everest Base Camp well behind seasoned Nepali runners who
finished in half the time.
Paul runs the North Pole Marathon on the day before his 34th
birthday and says he is relieved that there are no locals at the
North Pole to make him look bad. We advise him that the polar
bears are quick!


Text Courtesy of North Pole Marathon Official Site.
Click Here's a link to the Official North Pole Marathon Site