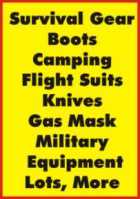 Survival Means Getting Started NOW, Right NOW
Get your equipment Ready
Prepare for Stage 1,
Survival ( Disasters )
Click on the following links for more information
#1 Warmth and Dryness ( Immediate Concern )

a.) Panchos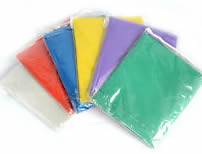 Panchos are cheap, small to pack and easy to carry and can be a life saver in the rain or even for warmth or a windbreaker. Some Panchos can alwo be used as a partial tent.
b.) Rain Suits

Don't buy a cheap rain suit. If you are in a rainy environment you need a rain suit that will hold up to wind and work. The cheap rain suits fall apart really fast and will leave you in a very dangerous situation. I know this from experience.
c.) Gortex Boots

Gortex boots will make a tremendous difference over waterproof or regular boots. The waterproof boots are great for a day or two then the moisture builds up inside and destroys the insulation value, that you cannot afford to lose. Also the gortex boots stop Trench Foot or Jungle Rot because they allow the moisture to be released where water droplets are not allowed to get in. It's the new technology of the Gortex material that makes the difference.


d.) Gortex Coats

Buy a coat that is a size or two larger than what you need. This is important because you may need to add layers of clothing beneath your coat. You are not buying your coat for style, but for survival. The layer method is very important.


e.) Heat Packs

Heat packs are fantastic and can save your life. There are times when you are hungry and tired and all of your clothing just won't work and at the same time you are not able to make a fire. You are experiencing hypothermia and there is no way that your body can make enough energy to get you warm. You are in serious trouble and may die as a result. The heat packs can make the real difference between life and death. These are a must and very important for any survival situation. When you are in a warm environment, you may think that you are safe, but when you are tired and hungry, even a seventy degree night may cause you to parish. Don't forget your heat packs.

#2 Survival Food and Water 
( Immediate Concern )

a.) Emergency survival food bars

Survival Food Bars are very, very important. As mentioned above in the Heat Packs text, when you are tired and hungry your body may not be able to generate enough heat to get you warm and then you will go into a hyperthermic mode. This can be life threatening even on relatively warm nights or when you are wet. A normal person will consume 2000 calories a day, but when you are in a survival situation, you are working hard and you will easily consume 3000 - 3500 calories in a day, or more. Even with your regular meals you may not get enough calories and may still be hungry or really needing more energy to keep yourself warm. I know about this from my North Pole Expeditions and I am giving you very good advice.

b.) Water Filter for Camping & Survival

Clean water is really hard to find. You see these TV experts diging a hole next to a stream and then drinking the water like it's filtered. This couldn't be farther from the truth. The water next to a stream is really polluted. Any ground water has to be considered polluted and you need to really think about this. If you are in a survival situation and you get sick, you have just gone from bad to worse. Having a satisfactory medthod to clean your water is issential and can make the difference between life and death. Remember, you will get thirsty during the day at times when you will not have a fire to boil your water, so you will need one of these drinking straws that filter the water for you. There are also pump type systems for higher volumes of water. Even with these methods, be sure to filter dirty looking water with a shirt packed into a tube first so that the sediments don't clog up your drinking straw or pump system.
Short and Long Term Housing ( Immediate Concern )
Personal Health ( Immediate Concern )
Emergency Radios, Flashlights
Signaling Devices
Escape Safety Equipment