YellowAirplane.com
285 Waco Rd.
Bushnell, Illinois, USA, 61422
309-772-9099
Please Note. I am a disabled veteran and at this time and I'm in tremendous pain almost continuously. I have not been able to answer written letters because I am only able to lay down with the keyboard in my lap due to my military injuries. I function quite normally until I move, even a little bit. Any movement causes me to have internal bleeding so I'm not even able to sit up at a desk to write. If you wish to call me please call before noon or after midnight. If you wake me up, it's no problem because I don't care and it doesn't bother me. Thank you very much and have a nice day.
C. Jeff Dyrek, Webmaster.
Read this Story, it's very different.
"Why God Sent Me to the North Pole."
or
Click here to see how I have to live and what it looks like to be a disabled Vet.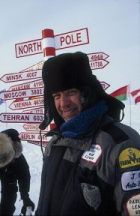 Click Here's the webmaster
standing on the North Pole.

.

Try Some Air Combat
where you really fly the aircraft
and battle a friend flying another airplane