Action Adventures in Space

You can travel to the edge of space in a real Russian MiG-25 Jet Fighter. With this trip you will be fully trained in ejection seat usage and many other aviation and space areas. Then, after putting your space suit on, you will fly in excess of 1000 mph up to 80,000 feet. My friend took this trip in April 2002. He said it was fantastic. He told me that you could see the sky filled with stars in the middle of the day and you could actually see the curve of the earth.

Click Here to Ride to the Edge of Space in a MiG-25 Jet Fighter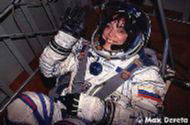 Become part of a Real Cosmonaut Team and Venture into Space. Go through the qualification process and real Cosmonaut training with real Cosmonauts. When you are done with the training process, take a real trip into Orbital Flight as a real Cosmonaut. Click here to find out how to receive this training.
Zero Gravity is the other fantastic adventure. He you fly in a large Russian Cargo jet and fly a hyperbolic path giving you the effect of zero G's, allowing you to float around the cabin and do all of the neat stuff that the real astronauts do. Click Here to try Zero "G" Flight
Action Adventures in the Air

How would you like to fly in a real jet fighter just like Top Gun. Here you go through an intensive training program then jump in a real Russian MiG-29 Jet Fighter and fly it yourself. The pilot is with you, of course, but once your have been checked out, you're in control.
Or how about a fantastic Adventure to the North Pole. Here you will fly in all kinds of Russian aircraft as you travel across the Arctic Ice. I took this trip in April of 2002 and had more fun than all three of my trips to Hawaii, and I'm not kidding you one bit. With the super clothing I never got cold and everything was even more fantastic than advertised. This is truly a fantastic aviation adventure in the air that you will never forget. Click Here to Ride in a Real MiG-29 Jet Fighter
Free Airplane Rides for Kids
Young Eagles
You can take a free airplane ride
and get a certificate signed by General Chuck Yeager,
the first man to break the sound barrier. All you need to do is ask
Look at the following pages for an EAA Chapter near you.
Incredible Cape Town
There's only one place in the world where you can strap yourself into a Mach 2 English Electric Lightning and climb 60,000 feet closer to heaven in just over a minute... A place where you can scream out over the Atlantic at 650 mph in a Buccaneer and take a g-pulling and breath-stealing aerobatic flight in a Hawker Hunter. and it happens to be one of the world's most beautiful cities...Incredible Cape Town! Cape Town offers incredible flying adventures surrounded by amazing scenery: Go vertical in the Lightning. Fly low in the Buccaneer. Perform aerobatics in the Hawker Hunter. Do it all while flying through the mountains or along the coastline.
Action Adventure Travel to the North Pole.
Travel with us in a Russian An-74 from Longyearbyen, Norway to Camp Borneo, the North Pole Base Camp. Then jump aboard a Russian Mi-8 helicopter to fly to the Geographic North Pole. Take part in just a visit to the pole, or a three day visit on the ice station Borneo, or skydive over the North Pole for the Ultimate Logbook Entry in your jump log. Also, you can take your hot air balloon for a ride over the North Pole. There are also dog sleds, ski the last degree and snowmobiles, cave tours, coal mine tours, scuba diving, radio controlled cars and airplanes. The entire adventure is fantastic and you will come home with a beautiful certificate for reaching the exact, Geographic North Pole. Click Here for more information Click Here to see the 2005 North Pole Expedition Gallery. C. Jeff Dyrek, Webmaster.
Bomb a secret airbase hidden in the mountains.
Escape enemy fire. Engage in air combat.
The missions are a fantasy. The excitement is real. The BAC Strikemaster The British Aircraft Corporation Strikemaster 167 is a jet fighter/bomber with a top speed of 900 kph. Designed for reliability and safety, the Strikemaster can accelerate from 0 to 600 kph in less than 20 seconds. The jet is powered by a Rolls Royce Viper jet engine producing 3,410 lbs. of thrust. It can climb to 37,000 feet. The Strikemaster has flown in a variety of air forces, including the air forces of Great Britain, Singapore, New Zealand, Kenya and Saudi Arabia. The fighter features side by side seating, allowing for easy communication between you and your pilot during each mission.
Adventure Travel on the Land

"Friendship World Trek" Trekking, Travel & Expeditions Team
Trekking, Nepal Peak Climbing Courses, Mountain Peak Climbing, Expeditions, Cultural Tours, Pilgrim Tours, Jungle Safari, Pony Trek, Mountain Flights, Ticketing (International and Domestic), River Rafting, kayaking, Paragliding, Ultra light aircraft flights, Bungy Jumpping, Swing, Rock Climbing, Family Home Stays, Mountain Biking Tours, Motorcycle biking, Hotel reservation services, Honey moon Tours, Cannoning, Tibet Scenic Tours, Sikkim, Darjeeling Tours, Student Trekking tours, Volunteer Tour, Hiking, Mountain Aircraft Flights, Sightseeing - Cultural City and Heritage Tours, Kathmandu Valley Divine Power Site Tour, Individual Trekking Organizers.
Motorcycle Tours of Southern Europe.
These are fantastic tours with a real professional as a guide. I have known Thomas for many years and I have met him on the 2002 North Pole Expedition through Siberia. Thomas is a very nice man and knows what he is doing and knows how to have fun. Believe me, you will have a fantastic time with lots and lots of great picture taking opportunities on the way. Click Here to visit the Unicorn Adventures web site. C. Jeff Dyrek Webmaster.
Your Mission Impossible Scenario: You have been selected by an ultra-secret paramilitary unit for a covert mission in hostile territory. Only the best-trained agents will be able to survive the mission, so your training must be thorough and intense. You will be taken to a secret training base where a hand-picked cadre of Green Berets and contract mercenaries from the world's toughest special operations units will teach you all the actual skills needed for this operation.
Go to Russia and learn from their pros.
Train with Russian Special Forces
You'll receive the same elite military training given to members of the Russian Special Forces inside the guarded gates of the facilities where they train.
Adventures on the Sea
Take a fantastic trip to the Easter Islands of the Arctic Ocean. A new discovery and you can see it live. This page has great photos click on the banner for to see this page. Also, Take a trip to the North Pole
on the Worlds Most Powerful Russian Ice Breaker Yamal, Click Here.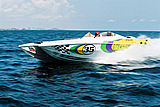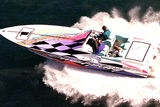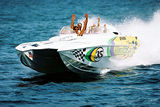 Prepare for BLAST OFF!! Rocket across the waves, from Miami Beach to Key Largo, in an action-packed race to have the most fun. Learn the basics of high-performance boating in this incredible offshore adventure. This isn't an ordinary day of boating. Get ready to play an adrenalin-pumping game of high seas poker. That's right...poker. Deuces may not be wild but the action is! Compete in our custom Poker Run while learning to drive an offshore racer Take a great adventure ride aboard an off-shore speed boat.