Y-I-BET
On the Youth of America
Youth Innovative Business Environment Training

With the Y-I-BET Youth program, we can turn our Public Housing Developments into Learning Developments.

This kids get to take a close look at a powered howitzer. The kids from Bushnell, Illinois, public housing development get to see things that they would never get to see if they didn't meet up with the Y-I-BET Youth Program. Giving kids real experience is what it's all about. Living at home and being raised with only a mom really limits a kids experience envelope. Seeing planes, tanks, howitzers, jets, explosions and everything else at air shows like the quad cities air show can make a big difference in the kids future.
The Quad Cities Air Show Field Trip Series 7-14-2000
Every year the National Guard brings a variety of tanks and equipment to the air show.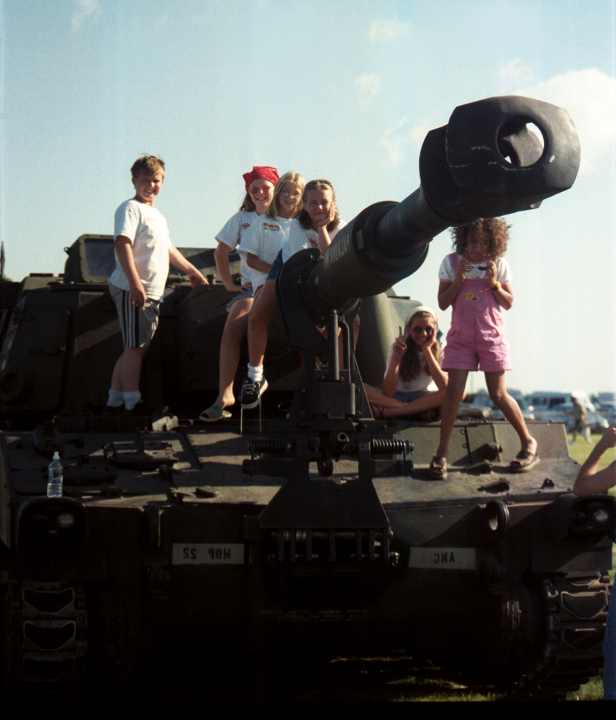 Did you ever get to sit on a Howitzer? These Kids Did.
Click on the photo for a close-up view.
Look at this big gun. Do you think that these kids are having a good time? Do you think they are learning? You bet! They are learning, learning and learning some more. With the Y-I-BET program kids in the public housing developments no longer have to get their kicks by watching TV or doing drugs. Now they can see what's really out there. They can see the opportunities what the real world can provide. The can feel like a participant and not just a spectator.


Kids from this youth group get to sit on a real big gun on this howitzer.
Howitzers are a common site at the Quad Cities Air Show. The Army National Guard is always a great help and provides a spectacular display of firepower. Going to this air show is not just an air show, it's really a tremendous museum. You can see everything from airplanes to tanks to rescue helicopters.
The one main thing that is important to emphasize is that teaching our kids is giving insurance to our country that it will be a great country in the future. If we don't train our kids, we throw our future away and throw our country away at the same time.
Taking kids to air shows broadens their experience levels tremendously, far beyond that of taking kids to ball games. There is an importance of having kids participate in ball games, but there is a much bigger importance in taking kids to airshows. You can see the difference on this page and this series of pages.
Yellow Airplane Gives You the Best Source of Airplane Models, Airplane Books, Airplane Movies, Aviation Art, Aircraft Calendars, Airplane Tools, Exhibits and MORE!
Click Here for Jaguar Sports Cars for Sale
Click Here to go to the YellowAirplane Online Museum
or Bible Gateway, Read Almost any Bible, In Any Language, For Free, Great Search.

Look at these exhibits and tell me what these men really fought for.
34th Fighter Squadron Willow Run B-24 Liberator Production Exhibit
Read the Webmasters Story, "Why God Sent Me to the North Pole." You will Be Surprised.
/Y-I-Bet/YIBET_7-14--2000_Quad_Cities_Airshow_6.html|36468"
Copyright Dates: