Y-I-BET
On the Youth of America
Youth Innovative Business Environment Training
Places That We Have Visited
and Field Trips that we have taken
The Bloomington Airshow7-8-2000Click on image for larger view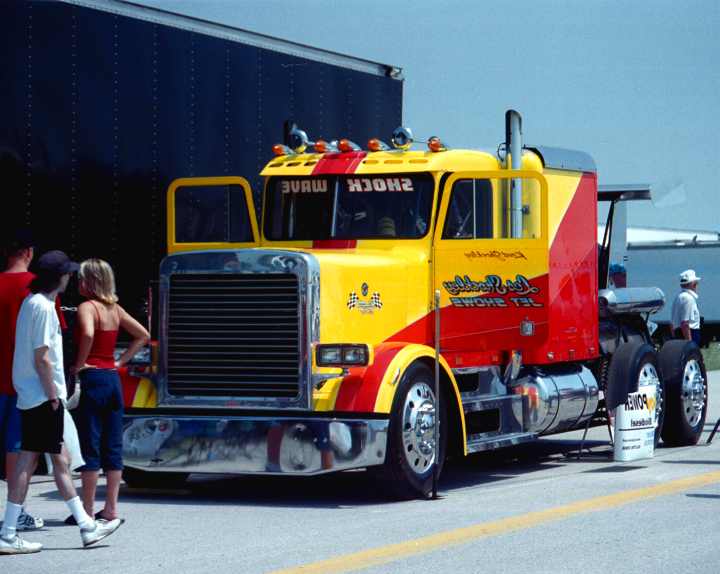 The Shockwave in action.
The Shockwave Jet Truck sits in front of the Super Shockwave while he shows how his afterburners work. The kids keep their attention for this exhibit. The shockwave kicks his afterburners in and everyone feels the boom as a pressure wave which hits your chest. This is pure excitement and watching afterburners kick in makes you think. The Y-I-BET kids got to see it all today. From jet airplanes, the Blue Angels, to jet trucks, to biplanes doing aerobatic maneuvers they have not only seen a lot, they learned a lot.
This program cost a lot and we need your help to get these kids trained and out of the cycle of generation after generation living in a public housing development. Please click below and give us your help.
Thanks
C. Jeff Dyrek, webmaster of YellowAirplane.com and founder of the Y-I-BET program
Yellow Airplane Gives You the Best Source of Airplane Models, Airplane Books, Airplane Movies, Aviation Art, Aircraft Calendars, Airplane Tools, Exhibits and MORE!
Click Here for Jaguar Sports Cars for Sale
Click Here to go to the YellowAirplane Online Museum
or Bible Gateway, Read Almost any Bible, In Any Language, For Free, Great Search.

Look at these exhibits and tell me what these men really fought for.
34th Fighter Squadron Willow Run B-24 Liberator Production Exhibit
Read the Webmasters Story, "Why God Sent Me to the North Pole." You will Be Surprised.
/Y-I-Bet/YIBET_7-7--2000_Bloomington_Airshow_18.html|26984"
Copyright Dates: