Y-I-BET
On the Youth of America
Youth Innovative Business Environment Training
Experiments with Activities
Using the EAA Chapter 350 & IAC Chapter 61 Newsletters to Teach Your Kids about Airplanes And Business.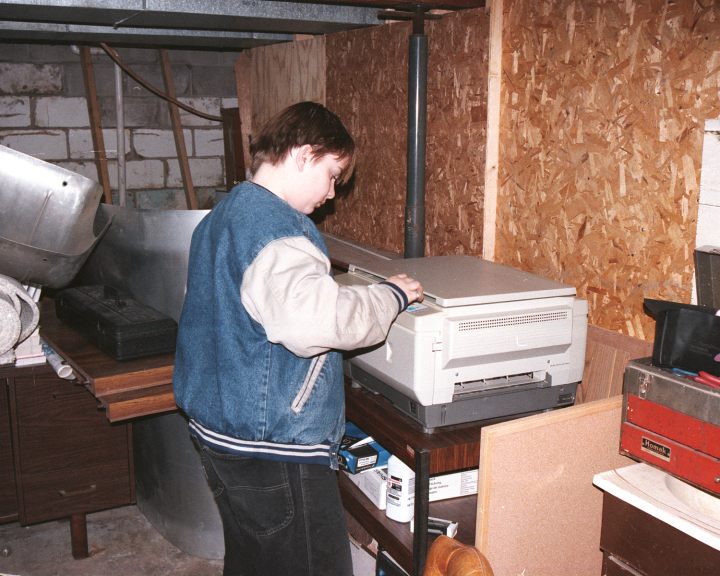 Click Here Steve makes copies of the original newsletter artwork.
Our kids group does the collating, folding, stapling, labeling and stamping required to send the newsletters for both EAA Chapter 350 and IAC Chapter 61. The kids learned about what a newsletter is, operating a copy machine, using preprinted labels, using a stamp dispenser, and about how many stamps are required to send a letter to a foreign country (Gordon Phillips, an IAC Member in Wolgast East Germany). This is where the business part comes in with the Y-I-BET program. The kids look forward to putting the newsletter together and enjoying each others friendly interaction during its assembly.
The copy machine is located in the basement of Roger Smith's house. Every time we go there, we get to see Roger Smith's Airplane Shop and the Pitts Aerobatic Biplane that is being modified there. This is an association reinforcement with airplanes in Steve's mind. The more times that Steve sees an aircraft or any other type of machine shop, the stronger Steve's ties are to the aviation and technological fields. The chances that Steve becomes involved in aviation and engineering are greatly increased, increasing the number educated technically inclined entry level workers to America's workforce.
We work with all of the other kids in this type of association link process too.
Click on the right arrow below to continue with this exhibit section.
Yellow Airplane Gives You the Best Source of Airplane Models, Airplane Books, Airplane Movies, Aviation Art, Aircraft Calendars, Airplane Tools, Exhibits and MORE!
Click Here for Jaguar Sports Cars for Sale
Click Here to go to the YellowAirplane Online Museum
or Bible Gateway, Read Almost any Bible, In Any Language, For Free, Great Search.

Look at these exhibits and tell me what these men really fought for.
34th Fighter Squadron Willow Run B-24 Liberator Production Exhibit
Read the Webmasters Story, "Why God Sent Me to the North Pole." You will Be Surprised.
/Y-I-Bet/YIBET_exp_NewsLtr_1.html|54940"
Copyright Dates: