Y-I-BET
On the Youth of America
Youth Innovative Business Environment Training
Experiments with Activities
Using the EAA Chapter 350 & IAC Chapter 61 Newsletters to Teach Your Kids about Airplanes And Business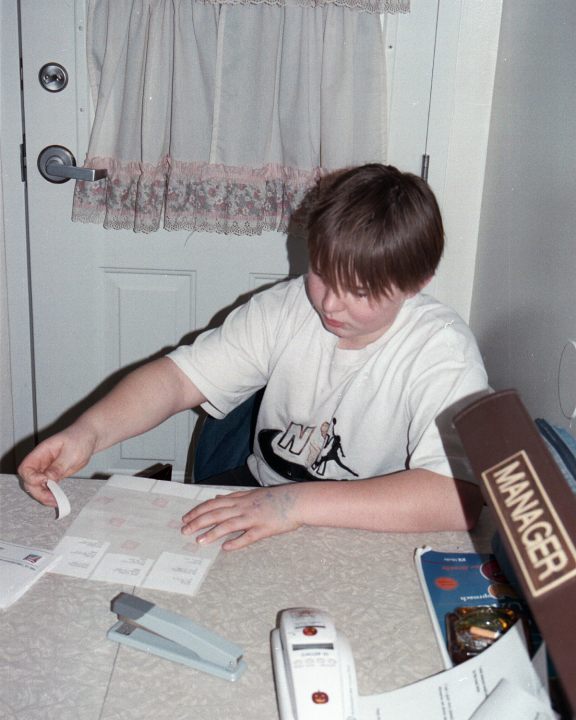 Steve puts the mailing labels on the newsletters
Steve Timbs was present when we opened the File maker Pro Database file of IAC Chapter 61's mailing list, he saw how we printed out Avery mailing labels on tear off sheets and saw how the Newsletter was laid out using Corel Draw.
How many kids get to have a chance to see this process done from beginning to end and be a part of its completion besides. We have allowed other kids to work with us on this process and they adapted very well and behaved responsibly.
With the Y-I-Bet program there will be many different opportunities for kids to do business related work. This work allows them to learn what happens within these jobs as well as teaching them how to act in a properly supervised work environment making them more suited for a future professional type of job.
Yellow Airplane Gives You the Best Source of Airplane Models, Airplane Books, Airplane Movies, Aviation Art, Aircraft Calendars, Airplane Tools, Exhibits and MORE!
Click Here for Jaguar Sports Cars for Sale
Click Here to go to the YellowAirplane Online Museum
or Bible Gateway, Read Almost any Bible, In Any Language, For Free, Great Search.

Look at these exhibits and tell me what these men really fought for.
34th Fighter Squadron Willow Run B-24 Liberator Production Exhibit
Read the Webmasters Story, "Why God Sent Me to the North Pole." You will Be Surprised.
/Y-I-Bet/YIBET_exp_NewsLtr_3.html|55004"
Copyright Dates: