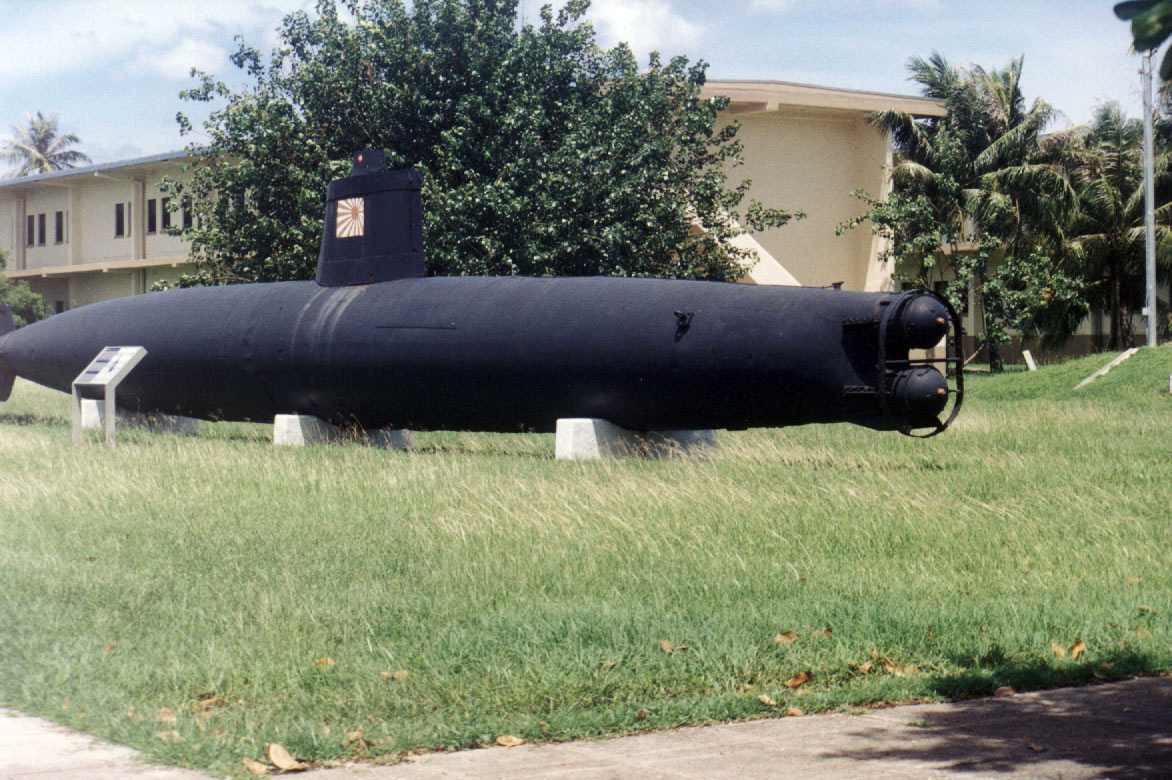 Photo from Dan Collier
7-25-2010
HEY! This is Dan Collier. Remember me?? I sent you a photo of my Ryan PT-22 while on Guam about ten years ago, and tonight I accidently stumbled onto your website and saw that I sent you a photo of that Japanese midget sub as well during my stay on Guam..
I have an update on that sub: And some photos as well, but have to dig them out, or you can find them in my album on facebook. (Dan Collier) (The album cover on my facebook album shows me posing from inside a Japanese light tank, which is also standing derelict in a field of tall grass on Guam..

Regarding the sub, during my stay there, and shortly after the photo I sent that's on your website, they dismantled the little sub and took it to a local Guam metal-working facility where they completely revamped it to static-display condition. You can imagine that the belly of that little sub was quite rusted through as it sat on those pylons for all these years, and it was starting to cave in under its own weight..

While the sub was apart, I got some interior photos of it, showing the torpedo tubes, and photos looking back into the rusted interior of the sub as well..
John Gerber did a great job on restoring that sub, and last I saw, it looked brand-new. I have a couple photos of the finished product as well as photos of the rusted interior, which apparently had been stripped out pretty clean years ago.. What you see today is pretty much a shell.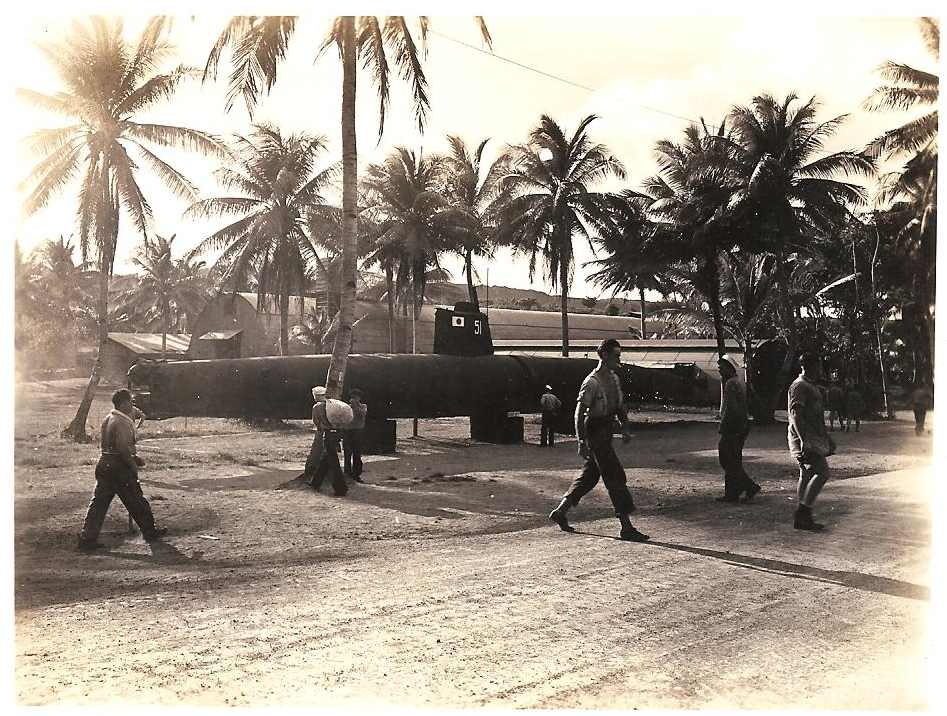 Photo from Lee White
Jeff,
I was looking through some old photos of my Uncle who was in the Navy and found one of a Japanese Mini sub. I first thought it might be the one in Fredericksburg, TX but it turns out it is the one in Guam. The number 51 is on the sub in the picture. Anyway, if you'd like me to email you a scanned picture of the sub, I'd be more than happy to.
Lee White
Photo from Marv Loopstra
taken by his dad Hein Loopstra in WW2
Stumbled across your website while researching a sub that my dad, Hein Loopstra, took a picture of while he was on Guam during the war. I have attached the two pics that he took.
Marv Loopstra, 8-24-2009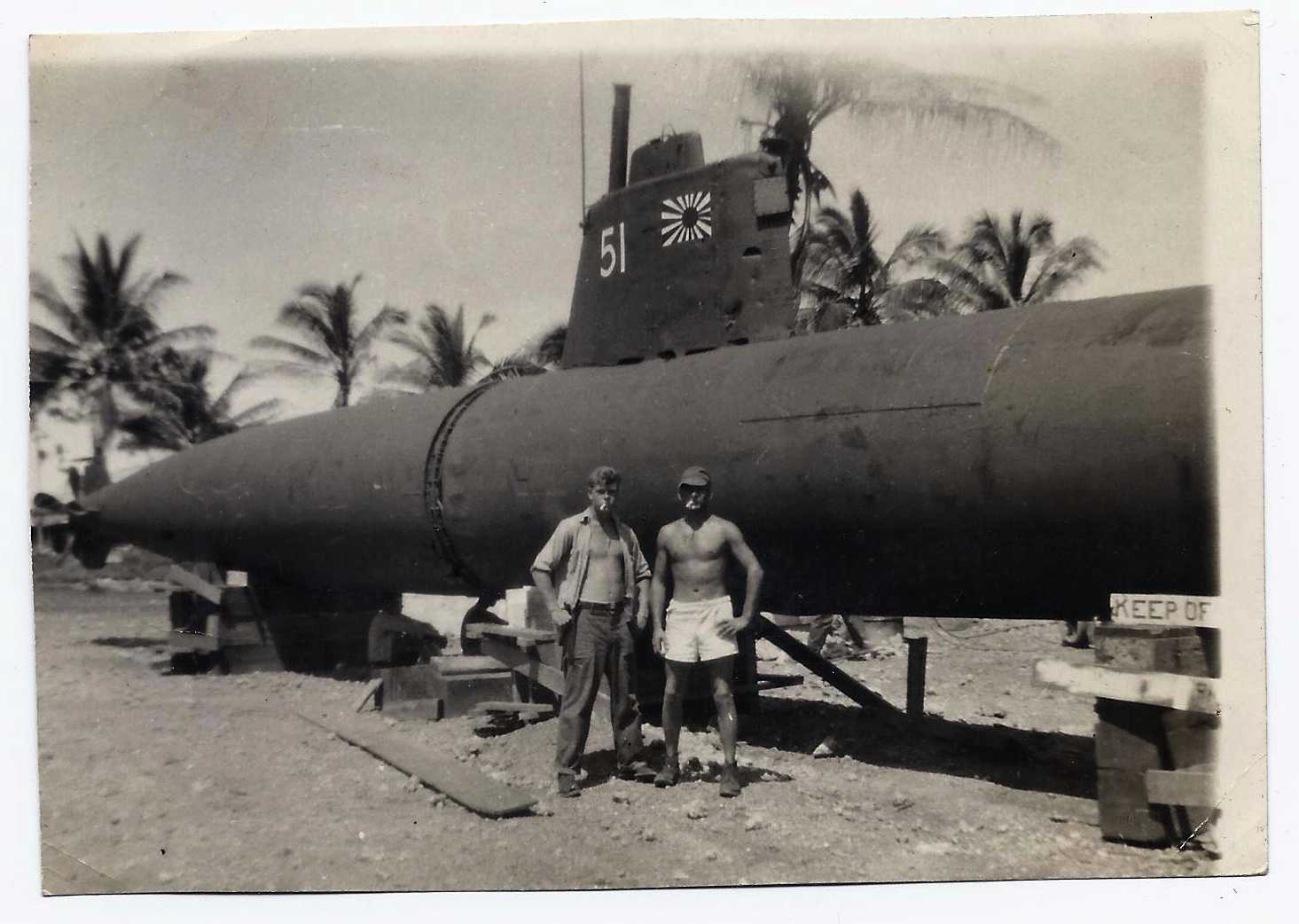 Photo Thanks to Cindy Kent
If anyone knows more about this Japanese WW2 mini submarine or has any more pictures, write me a letter at the bottom of this page.
Thanks Jeff,
Dad, Hein Loopstra, was an aircraft radio repairman with the 871st Signal Company with the rank of Staff Sgt. He maintained radios from B-25's and B-29's.
He was born in Holland in 1922, enlisted in 1942, was discharged in 1946 and died November 2005. He was a Chemical Engineer in civilian life working on projects from nuclear powerplants to Titan, Minuteman, and Polaris missiles and the engines for the Space Shuttle.
I do not know if any of the people in the picture were in his company but he is the one who took the picture.
I have attached a couple of pictures of him. In the group picture, he is the one standing.
Marv Loopstra
10-5-2008
I remember this sub very well. As a young boy, in the early 1950's, a Navy dependent living on

Orote Point

, the whole island was an adventure for me. There were wrecked American and Japanese airplanes in a lot of places. I remember the sub when it was still on the beach , I thought it was Tumon beach , but it could have been another one. We would take the man-haul north from Orote Naval base north towards

Agana

and get off within

walking distance

to the beach. The sub was quite a ways out of the water but I'm sure that with high surf the stern got wet. The hatch was open on top and many a time we young boy went inside and just felt around....couldn't see much as it was pretty dark inside. I remember how awful it smelled in there. There were pipes and valves everywhere. I wish I had thought of getting a flashlight and going back inside. The sub was hauled off of the beach and the Navy took it to the base where they painted it all up, put the markings back on it and put it on a stand by the base

swimming pool

. The other pictures I've seen of the supposed 2 man sub, washed ashore on Guam are not accurate. The one that was by the base pool is the one that was washed ashore on the northwest side of the island. Wow, what an adventure Guam was for me as
a kid.
Ken Thompson, Ret USAF
My grandfather was a Navy diver during WWII and was stationed in Pearl Harbor. There were (2) two man subs that were sunk in the Harbor. grandfather was one of a few Navy divers that helped to bring up the subs. As a matter of fact he has the Conning Tower Light off of the sub in Guam. He has now passed on and I believe one of my cousins has the light now but he did give me a piece of a Japanese airplane and a Japanese coin that he got off one of the planes in Pearl Harbor.

I knew it wasn't likely that I would ever make it to Guam so I was searching for pictures of the sub to show my daughter when I came across your web site.

Hope this helps. If you have any more pictures or know where I can find them please let me know.

Allison
A great photo of a WW2 Japanese Mini Sub now on Guam Island. This submarine is a reminder of the Jap's presence near the island. Japanese Submarines
Back in the 70's the Seabee's of NMCB 10 built a swimming pool on base but couldn't use it once they were done. They put the sub in the swimming pool. They were made to take it out and fill it with concrete. Info thanks to William Sheehy

Mini Submarine Restoration page 2
See the 34th Fighter Squadron Exhibit at the Yellow Airplane Exhibit Hall.
The 34th Fighter Squadron fly's a WW2 P-47 Thunderbolt
Click on photo to see exhibit

Fire Fighting Adventures

Zero Gravity, Ride in the Vomit Comet.

Ride in a MiG-25 to the Edge of Space