The WW2 Japanese Mini Sub after it was Restored on Guam

.

Travel Photo by Dan Collier.

After restoration has been completed, the WW2 Japanese two man mini sub looks like it was new. The entire Japanese submarine was taken apart, restored, repainted and put back together for display at the museum on Guam. This was a huge job and was mostly done out of the publics eyes so these photos are rare and a very important part of history. With more than two thousand mini subs being made, the Japanese mini subs were only credited with only one ship being sunk.

At the Yellow Airplane Online Museum
Photos of the WW2 Japanese Mini Sub after it had been restored on the island of Guam
Travel Photo by Dan Collier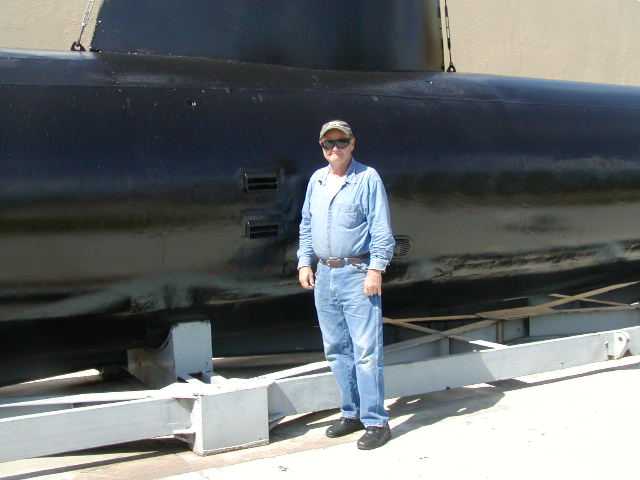 Dan Collier standing in front of the Japanese Mini Submarine on the island of Guam in the Pacific.
The weather seemed very mild compared to past visits. This last 5-month visit was the fourth time I've been there since 1956. Lots of rain this time out and the seas seemed to be rough and angry, while the water on the beaches seemed much higher. Erosion to the beaches is a problem, including a beach where the US marines landed (Asan Beach) and the waves have been pounding on a section of the beach that has a picnic area on it, forming a little 4-foot-high cliff that continues to take a beating, and eroding the picnic area, where large pieces of sod fall onto the beach.
One concrete picnic table has one-third of its length hanging over this cliff, so it gives an idea on how bad the erosion is. This action did wash out a badly rusted Type 99 Japanese rifle that I found and was able to pack in my suitcase and bring home.. I often find war-related items while combing along the beach.. Must've been a point of high activity at one time..
I will make at least one more trip to Guam during the next couple years.. I also visited nearby Tinian and Saipan during this last visit. Visited the two bomb pits where the atomic bombs were stored, as well as some old bombed-out Japanese buildings that are well grown-over by the vegetation.. And Saipan's famous Suicide Cliffs.. History is all around me as I stand on the very grounds where all this took place..
This is where the old Japanese Flag used to be located. The Mini-Sub rebuilders didn't thing that the flag was the original so they removed it, but you can still see it's remains under the new paint.
This is the Mini-Submarine after a total restoration.
Click Here's the Japanese Mini-Sub Periscope.
Original photos of the captured Mini Sub being towed to Guam
This is an interior view Schematic of the Japanese Mini Sub.
Counter Rotating Propellers on this Japanese two man minisub.
Japanese Two-Man Submarine
This two-man submarine ran aground at Guam's Togcha Beach in mid August 1944 while on a mission to attack American shore facilities. The battle for Guam had ended more than a week before.
Although Japan built more than 2000 midget submarines between 1936 and 1945 and deployed them throughout the Pacific, these subs were credited with sinking only one ship during all of World War II.
Torpedo tubes on the World War 2 Japanese Mini Sub.
If anyone knows more about this Japanese WW2 mini submarine or has any more pictures, write me a letter at the bottom of this page.
Atomic Bomb Pictures of Little Boy and Fat Man
See the 34th Fighter Squadron Exhibit at the Yellow Airplane Exhibit Hall.
The 34th Fighter Squadron fly's a WW2 P-47 Thunderbolt
Click on photo to see exhibit
Avitop.com Aviation banner exchange - Join now!
/WebSite/pics/Viewers_Pages/Dan_Collier_6_Japanese_Mini_Sub_After_Restoration.html|53445"