www.YellowAirplane.com
The 34th Fighter Squadron
Flying the P-47 Thunderbolt
from Ie Shima Island North West of Okinawa.
The 34th Fighter Squadron Yearbook Page 41.

Japanese Surrender Delegation, WW2.
This is the True Story of how the Japanese
Surrender Really Happened.
This is the first page of the Japanese Surrender Exhibit
The Japanese Surrender Delegation flew to Ie Shima in two Betty Bombers
and were almost killed by the Japanese Air Force in the process.
Contributors to this Japanese Surrender Exhibit.
Seth Villa, Lloyd Freeman, Noel Adair,
Larry Jennings and Bob O'Hara

Scanned by C. Jeff Dyrek
This is a fantastic story of the Japanese Surrender and a big part of Aviation History.
There was an interesting story about the Japanese surrender which involved the Betty Bombers. The surrender wasn't just the emperor waving a white flag and calling it quits. It wasn't just the signing of the surrender papers on the USS Missouri. There was a long story behind the Japanese surrender and a big part of aviation history. As a webmaster, I'm just going to tell it the way I remember reading about it so here it is, please forgive me for any mistakes.
Click on the Right Arrow Below to Continue with this story
More about the Betty Bomber from Noel Adair
Having seen the info on the Japanese peace envoy's Betty Bombers I can tell you that the identifying crosses on them were GREEN. On that day, I and thousands of other happy GIs were lined along both sides of the airstrip. There were two of the Bettys. Our living area (507th Fighter group) was built parallel to the westernmost fighter strip on Ie Shima, which was the one used that day. We had a short hike to a ringside look at history as it happened. JDK KEN
1-28-2010
Dear Jeff,
I was very excited to find your website and information. I have come into possession of some photos of the peace envoy and planes very similar to the ones you have posted. Col. Isaac Simonds was there. He was my husband's uncle. When his wife died, we got pictures. He had written some notes on the backs of some of them. Thanks to you, I now know more of the story of several of them. We also have some photos showing some of the destruction, from the air. We have some from a visit to the base by General Partridge. He was meeting Col. Ellenger's staff. We have some showing Uncle Ike's Sqd headquarters' and Sqd. 23rd ADG. I don't know what squadron he was in, or if he was a Colonel yet at that time. If you would like to see any of our photos or possible figure out more about what some are, let me know. Thank you for your service!! We currently have one son in the US Navy and one in the National Guard I hope to hear from you.
Sincerely, Kathy
Added 6-7-2010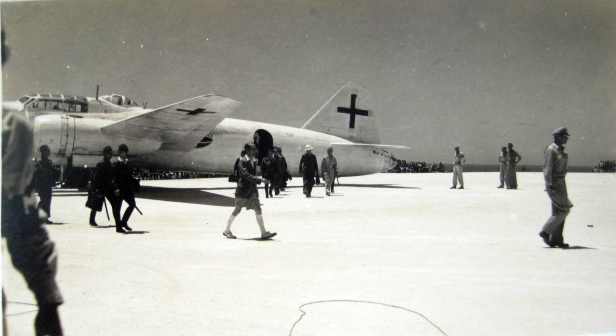 Japanese emissaries in route from Japan to Manila, August 1945, to surrender to Mac Arthur, Tehy flew in this "Betty" bomber, painted white with green crosses for identification. Stopped on Ie Shima, where I was stationed at end of WW2

Jap Envoys climb out of planes.
Photos by Dr. Gray Allison while he was stationed on Ie Shima. Photos thanks to Victor Disharoon.
More about the Japanese Surrender, VJ Day August 14, 1945
Click Here to Go To the 34th Fighter Squadron Exhibit
Click Here's another Great Online Exhibit,
The Willow Run B-24 Liberator Production Plant.
Click Here to See the Japanese Propaganda Art Exhibit
Veterans, Read This
Look at these exhibits and tell me what these men really fought for.
the 34th fighter Squadron
USS Kitty Hawk
About the Webmaster, Why God Send Me to the North Pole
Click her to see how I have to live and what it looks like to be a disabled Vet.
/34th/34th_PG41.html|11452"