The Japanese Betty Bomber takes off after its surrender to the U.S. is done.
The 34th Fighter Squadron
Info From Our Readers
This is the Betty Bomber taking off for Japan, in WW2, with the Japanese Surrender Envoy aboard.
I have a friend that was at Ieshima when the Japanese came in and he gave me these photos similar to the one on your web page Cal (he was on a LST like the one in you photo on the beach) said the planes were painted white with red crosses on them also in the photos is Lt. Gen. Toroshio Kawabe. I am sending the photos with a JPG ext. Noel Adair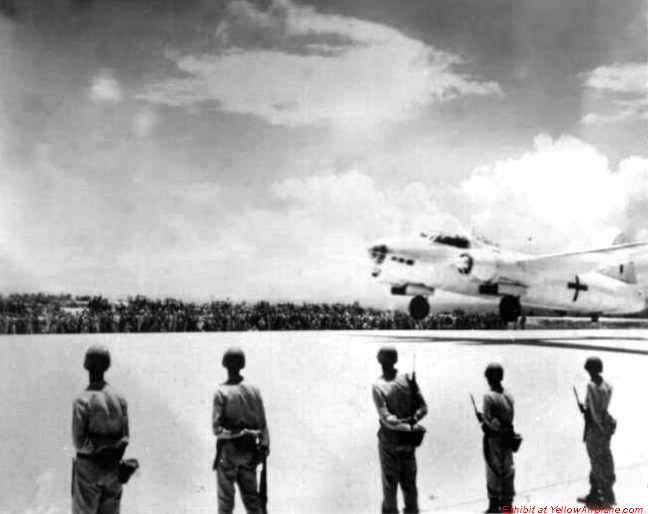 Scanned by Noel Adair
The Japanese Betty Bomber takes off after its surrender to the U.S. is done. US Soldiers stand along the runway as a salute to the end of the war with Japan. The papers were already signed but the Envoy had to make it back to Japan even though they now had the Entire Japanese Air Force and Army trying to stop them. These surrender papers were signed by General MacArthur in Manila, but they still needed to get back to Emperor Hirohito before the public signing of surrender could be made aboard the USS Missouri in Tokyo Bay.
This is the last page of the
Japanese Surrender Exhibit
A Journey from Childhood to War

A tremendous story about Jesse Pettey a

B-24 Liberator

Pilot in World War 2 which takes you from his childhood to becoming an Army Air Force Captain in World War 2.

By Jesse Pettey.


Click Here for some more Great Betty Bomber Pictures and more Surrender Pictures.
Click Here to Go to the
Yellow Airplane Online Museum
Click Here to go to the Japanese Surrender Home Page.

Click Here to see Many More Betty Bomber Pictures
Veterans, Read This
Look at these exhibits and tell me what these men really fought for.
the 34th fighter Squadron
USS Kitty Hawk
About the Webmaster, Why God Send Me to the North Pole

/34th/JapanSurrenderWW2BettyBomber-15.html|13215"