This is the
413th Fighter Group Pictorial Review
Page 17
Flights of the 1st Fighter Squadron, 413th Fighter Group in WW2
Vuelos del Escuadrn de caza de primera, 413 Grupo de Caza en la 2 Guerra Mundial
Donated by Seth A. Villa
December 1944
In the following pages you will
see the many photos and the history of the 413th.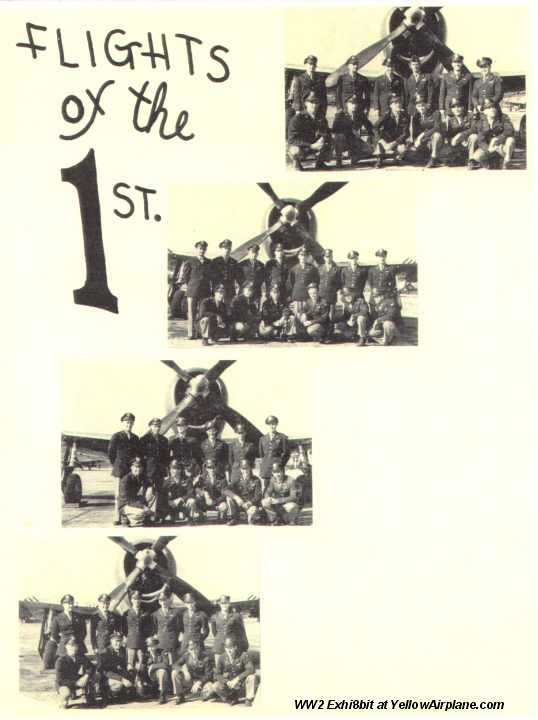 8 June 2010
Dad is fourth from the left looking right into the camera with the big smile.
Dad started in North Africa with the 79th Fighter Group flying P40's, but continued north into Malta, Sicily, and Italy. I know that for part of his time he was in Foggia, Italy before returning to Millville, New Jersey to teach Combat Fighter pilots in P47's. He then went to the Pacific with the newly formed 413th to finish out his combat time. His records show that his group was on a bombing and strafing mission off of the coast of Nagasaki when the bomb was dropped. They all witnessed the mushroom cloud while returning to base.
I am copying some of my family on this who may have access to dad's original photo which I believe has more names on the back.
Thank you once again for this research and web history source!
~ Eric
Scanned by C. Jeff Dyrek
Members of the 413th
Flights of the 1st fighter squadron
at Bluethenthal Field
Wilmington, North Carolina
Look at Close-ups of photos on this page
photo 1 photo 2 photo 3 photo 4
Y-I-BET on the Youth of America.

Youth Innovative Business Environment Training.

A Better way for kids to learn about technology, aviation and industry. This is an extensive exhibit that had hundreds of hours and tens of thousands of dollars put into making it. The original concept of the Y-I-BET Program was designed by C. Jeff Dyrek and Robert Muse.
Interesting Books that you can buy
9991186514United States Navy Camouflage 2 of the WW2 Era : Fleet Carriers
0962445010Through Innocent Eyes : Teenagers Impressions of WW2 Internment Camp Life
It is by acts and not by ideas that people live. Anatole France
/413th/413th_PR_PG17.html|37578"