A photo of Merete Storo an her beautiful Arctic Native Coat.

North Pole Expedition 2003.

Another photo of Merete Storo and her beautiful Arctic Native fur Coat which she made herself.
This exhibit was posted on 5-29-2003
Please Note: The background on this page is an aerial photo of the sea ice near the island of Svalbard, Norway.
Merete Storo Native Arctic Clothing Page 2

Go to Page One

Go To the Next Page in this Exhibit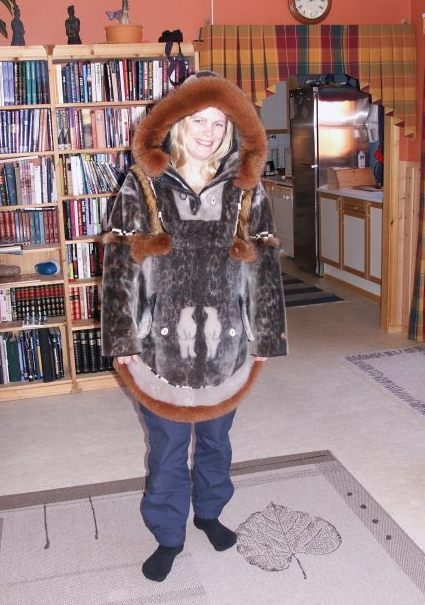 Photo by C. Jeff Dyrek
Merete has done a fantastic job on this beautiful coat. I remember seeing her in her coat the very first day that I was in Longyearbyen. It was so nice that it has stuck in my mind ever since. I met Merete several days later and we became friends. She showed me some of the other clothing that she had made and it was all very impressive. Even after seeing how she makes the patterns, I can't believe that she can sew all of these components together and get such detail. Take a close look at the bears on the front of the coat. This coat is made mainly from seal skin and the bears on the front came from the belly of the seal while the outer, darker shell of the coat came from the back of the seal. Back to the bears, look at the detail of the arms on the bears. It's really hard to sew these fine components together and get the detail to come out properly. But, it really comes down to Know How. She knows how and I don't. But, still, the entire coat is very well designed, it's very warm and it's very beautiful too. Click on the link to Merete below if you would like to have a coat or other part of your clothing made by Merete.
From the Webmaster: These are some beautiful clothes made in native style by Merete. She has studied the native clothing for many years before she started the business in Longyearbyen on the Svalbard Island group located far north of the most northern tip of Norway's mainland. The clothes are made of various animal furs from seal to arctic fox giving them both the function of maximum warmth and beautiful styling.
You can contact Merete at this Email address for more information or to purchase your custom made clothes. Click here to write to Merete
| | |
| --- | --- |
| | Go To the Next Page in this Exhibit |
Click Here to go to the North Pole Expedition 2005 Exhibit.
Click Here to go to the North Pole Expedition 2002 Exhibit.
Click Here to go to the North Pole Expedition 2001 Exhibit

Click Here to go to the Main Adventure Exhibit Index.
Click Here to go to the Yellow Airplane Museums Main Index.
Click Here to see other incredible adventures you can take.

Click Here to go to a list of Airplane Museums in the United States.

/North_Pole_2003/Merete_Native_Clothing_2.html|37612"