Visiting the Air National Guard
183rd Fighter Squadron, 6-12-2000
Springfield, IL.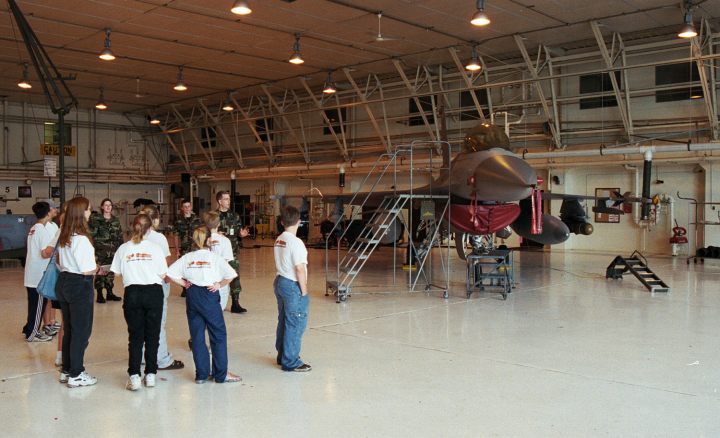 For safety reasons, The kids are instructed how to behave around a jet aircraft.
Jets can be dangerous to walk around, explains Captain Neely. The trailing edges are very sharp and if you're not careful, you can walk into them and receive a bad cut.
Click Here's a little story about life on an aircraft carrier, the USS Kitty Hawk. In 1977 and 78 I was stationed aboard this ship and it was covered with aircraft inside and out. One day I was talking to a group of my friends and said that I hope that they don't think I'm stupid but... I pulled up my pants legs and showed them my bloody shins. Look at this, I said. They all laughed and every one of them pulled up their pants legs and showed me their bloody shins. Everyone of us received injuries from bumping our legs into the many chains that hold an aircraft to the deck of the ship. These weren't just a few scratches, they were bad bruises with scabs and some of them with fresh blood running down their legs. We all immediately started laughing.
Head injuries are also common around aircraft and this is what Captain Neely was explaining here.