Visiting the Air National Guard
183rd Fighter Squadron, 6-12-2000
Springfield, IL.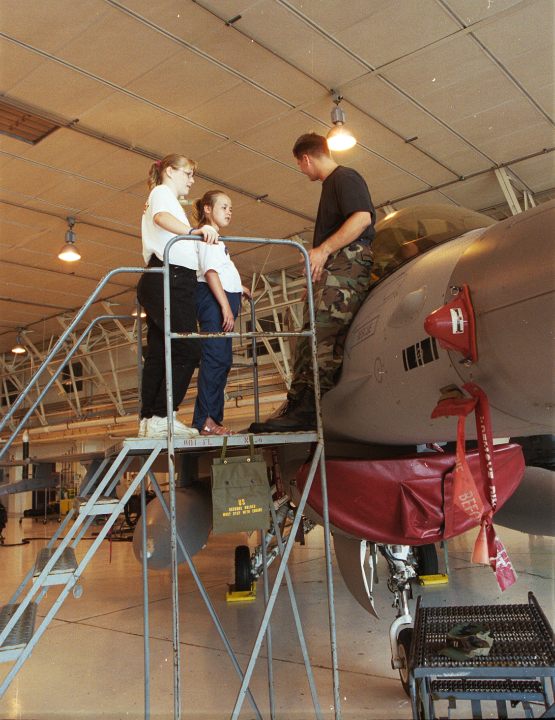 Steff and Libby take a close look at this F16 falcon
Steff has flown the simulators and this Falcon looks very much like the game Falcon 4.0 . Libby hasn't flown the simulators yet but her time will come.
With the combination of watching movies about the f-16, building f-16 models, playing with f-16 simulators and now visiting a real Air Force base with the f-16's, these kids really learn their stuff. Or next visit is the Quad Cities Airshow on July 14-16 in Davenport Iowa. Steff has been to four airshows so far but most of the other kids have only visited one, Libby has never seen one.
The airshow visit will be the same kind of learning progression. Before the show we will watch movies and talk about the kinds of aircraft that we will see there. After only one summer these kids will have learned a lot, but after two and three summers of this hyper-tech training, these kids will be way ahead of the other kids in their neighborhood. This is what we are working on now, a group of kids that can be the neighborhood leaders and leaders with the Y-I-BET as the group expands.
I want the cool kids of the neighborhood and school to be the smart kids of the neighborhood and school. This is what the Y-I-BET program is all about.