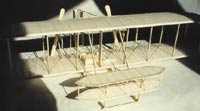 Wright Flyer Brass Sculpture
Brass Model Kit
Photo-etched brass pieces that easily assemble into a dramatic aircraft model sculpture that is sure to impress! Requires only a modeling knife, tweezers and glue to assemble your own museum quality display piece. Pilot figure and bicycle included. 6½" wingspan when complete.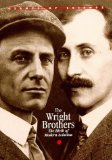 On Great White Wings :
The Wright Brothers and the Race for Flight
by Fred E. C. Culick and Spencer Dunmore
On December 17, 1903, Orville and Wilbur Wright took to the air for less than a minute, accomplishing what mankind had only dreamed of for centuries. now, almost one hundred years later, this definitive account offers a unique look at the Wright Brothers' achievement, and at the many experiments that led up to their momentous ride.
Written in engaging, accessible prose and, featuring more than 200 photographs and illustrations, On Great White Wings will delight anyone interested in the history of flight and in the fantastic story behind the twentieth century's most important achievement.