Here are some photos of an abandoned Japanese light tank on Guam. It is located near a golf course where thousands of Japanese tourists come to play golf.. They have no idea this Japanese relic, used by their grandfathers is so close to them.. It's hidden and unmarked in ten-foot-high sword grass that surrounds the golf course. --dan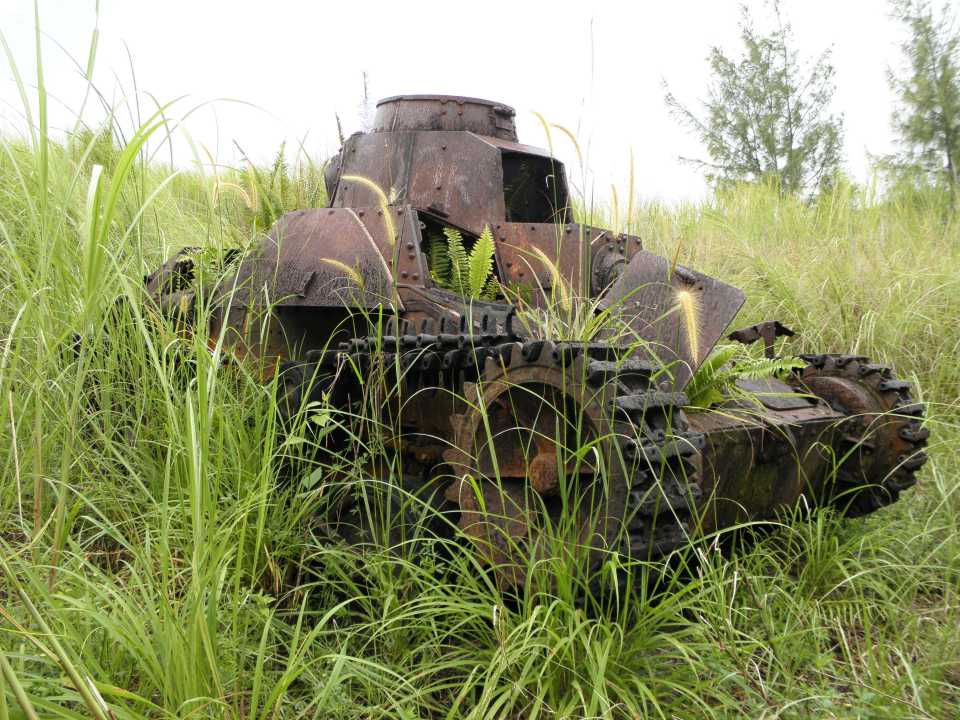 Be sure to click on this picture. Some of the Tappets on this Japanese tank engine look
good enough that they could be adjusted right now. I'm super surprised
how good of condition that these parts are in after all of these years of
sitting in the jungle..
Chronology of Japanese Hideouts after WW2
Here's a picture of the inside of the turret of the WW2 Japanese tank on Guam.
Read more about Mr. Shoichi Yokoi here.
Read about other Japanese Soldier hideouts here.

Photos by Dan Collier
Here is a 1941 jeep. It's ex-military, of course. It's known as a "scrambled" jeep among the military vehicle collectors because it has a Willys body mounted to a Ford running gear and engine.. The best of both worlds. The classic Willys body with the beefier, heavier ford box frame, rather than the willys channel frame.. At one time in its military life, this jeep went through a rebuild depot, and this is the way they put her back together again. I've seen others like that.. Although they're looked down upon by the military vehicles collectors club, I say that their place in history is just as legit as the purebreds, because this is the way the army put her back together while still with the army!
This little jeep is perfect for running around town and into the nearby mountains.
6 June 2011, Reflections of a soldier on Guam in WW2.

The war history is what I love about the islands.. I would walk out into a field, or the beach and see a war remnant or piece of shrapnel still imbedded in the earth, and it reminds me that I was right there in the very spot where it all happened! US Marines were struggling to get to the high ground where the Japanese were raining down fire and brimstone, and they were getting blown to bits hanging on by their fingernails, not knowing if they'd be alive the very next second.. I'm not a war monger, but WWII is fascinating for all the interesting stuff that came out of it..

I've wanted an M-1 Garand for many years, more for its historical significance, than to shoot... I finally found one in the gun store about 7 months ago and traced the serial number back to Oct, 1943. I was hoping to get a war rifle, but didn't think I'd be so lucky. It has some small parts that are post war, but I have been restoring it back to 1943 configuration... There were improvements along the lifespan of the M-1, and I realize that by reverting back to 1943, I'll actually be taking out the improvements.. In the heat of a battle, I'd probably prefer the updated parts, but for occasional target shooting, I'd like to see it go back to its original design.. The exception will be the barrel, which is an aftermarket, but I doubt there are many WWII barrels left out there that haven't been shot out by now...........
List of Japanese armoured fighting vehicles of World War II
Japanese tanks of World War II
WW2 Japanese Tanks Japanese tanks fell well behind her contemporaries in the war,
fielding a variety of underpowered and outclassed designs.
Japanese Armor, Japanese Tanks
1944 US Army WWII Japanese Tank and Tactics 89p
If anyone knows more about this Japanese WW2 Japanese Tanks or has any more pictures, write me a letter at the bottom of this page.
See the 34th Fighter Squadron Exhibit at the Yellow Airplane Exhibit Hall.
The 34th Fighter Squadron fly's a WW2 P-47 Thunderbolt
Click on photo to see exhibit

Take a ride into Space, for Real.

Driving Adventures, Drive a real Tank

Zero Gravity, Ride in the Vomit Comet.

Ride in a MiG-25 to the Edge of Space

Ride in a F-104 Starfighter, Jet Fighter