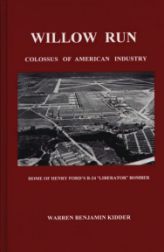 Click Here to look at the Book and
a Free Exhibit
by Warren Benjamin Kidder
The B-24 Liberator was built in a factory called Willow Run in Detroit Michigan. The factory was built by Henry Ford and designed by Charles Sorensen. The willow run factory was named willow run because is it was built on the willow run creek. This is interesting because the last person to live on the willow run property was Warren Benjamin Kidder. I have spoken to Ben, personally, and he is one of the nicest people that anyone could ever meet. Ben wrote a book called Willow Run, Colossus of Industry, a book about the production of the b24 liberator, military bomber. When the factory was in full production it produced a B24 liberator every 56 minutes. This factory is one of Henry Ford 's greatest achievements. You can read more about this fantastic, very well written book by ing here and going to the Willow Run B-24 Liberator Production Exhibit.

B-24 Liberator Units
of the Pacific War
Born out of an approach made by the US Army Air Corps to Consolidated for a bomber with superior performance to the B-17, the Liberator was built in record numbers as the Allies' most abundant heavy bomber. From the first to see combat, the B-24D, to the ultimate Liberator, the heavily modified PB4Y-2 Privateer, all Navy versions are featured in this, the first of four volumes on the B-24 family.
Book Description
Ever present in the Pacific from Pearl Harbor to VJ-Day, the B-24 Liberator proved to be the staple heavy bomber of the campaign. From its ignominious beginnings in the Allied rout in the Philippines and the Dutch East Indies, the bomber weathered the Japanese storm with a handful of bomb groups, which played a crucial role in checking the enemy's progress firstly in New Guinea, and then actively participating in the 'island hopping' campaign through the south-west Pacific.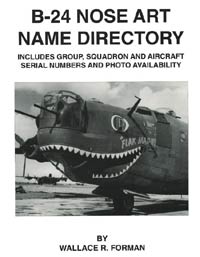 B-24 Liberator Nose Art Name Directory
Forman. A companion to the same author's B-17 nose art and name directory. This volume details the Group, Squadron, serial number and photo availability of over 9,000 WWII B-24 Liberators. Great for the historian, researcher and model builder. 32 pages of vintage photos. 8½"x 11", 192 pgs., sfbd.
A must for B-24 Liberator Buffs! Wally has expanded his format to include data on AF Wings and their component bomb groups for most of the USAAF. His B-17 Nose Art Directory was concerned with the 8th, 15th, and 20th AFs. And rather than searching the total list for group aircraft he has listed the a/c assigned to each group by group number. Definitely a source book for important data (names, serial numbers, photo availability) on this aircraft.