F8F-1 Bearcat U.S. Navy Air Reserve, Glenview, 1950s
an F8F-1 Bearcat flown by the U.S. Navy Air Reserve out of Glenview Naval Air Station in the 1950s, F8F Bearcat 1/72 Kit
an F8F Bearcat flown by Carrier Air Group 19, which was stationed on the USS Boxer (CV-21) in 1947
F8F-1 Bearcat
Royal Thai Air Force, Nakhon Sawan Air Base
F8F-1 Bearcat Beetle Bomb, U.S. Navy Blue Angels, 1949
In January, 1949, an F8F-1 Bearcat - painted orange-yellow and given the name "Beetle Bomb" - was used to represent an enemy aircraft under attack by the Blue Angels. In mid-1949, when the Blue Angels transitioned to F9F Panthers, Beetle Bomb performed advanced aerobatics before the main show.
that famous F8F-1B F8F-1 Bearcat - Grumman's final piston engine fighter, which was intended as a replacement for the F6F Hellcat
F8F-1 Bearcat
1st Fighter Squadron, South Vietnamese Air Force

F8F-1B Bearcat
Blue Angels, 1946
The last of Grumman's great single-seat, piston-engine naval fighters, the F8F Bearcat was the best of its breed but arrived too late for action in World War II.
F8F-1B flown by "Blue Angels" Flight Leader Butch Voris - an 8-victory World War II ace who founded the U.S. Navy Flight Exhibition Team in 1946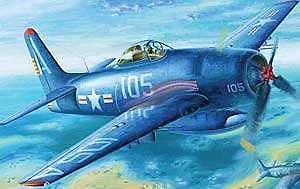 F8F-2 Bearcat
VF-61 Jolly Rogers, USS Franklin D. Roosevelt
F8F-2 Bearcat flown by VF-61, the "Jolly Rogers," when they were stationed on the USS Franklin D. Roosevelt (CV-42) in 1949
F8F-2 Bearcat
VF-72 "Bearcats," USS Leyte (CV-32)
F8F-2 flown by the VF-72 "Bearcats" off the USS Leyte (CV-32) in 1948
F8F Bearcat Thermometer

With sturdy metal construction that's perfect for either indoor or outdoor use, this "nose art" thermometer displays the temperature in both Fahrenheit and Celsius. 5"x 17"; made in the USA.
F8F-2 Bearcat Clock

F8F-2 Bearcat Metal Sign

Featuring classic World War II-style nose art and an F8F-2 Bearcat, this 24-gauge steel sign is hand distressed to create the look and feel of aged metal and paint. 14 "x 8"; includes mounting holes.