Visiting the Air National Guard
183rd Fighter Squadron, 6-12-2000
Springfield, IL.
F-86 Sabre Jet on display in front of the 183rd Fighter Squadron gate entrance in Springfield, Illinois

Click Here's a Summary of our trip. What did the kids learn?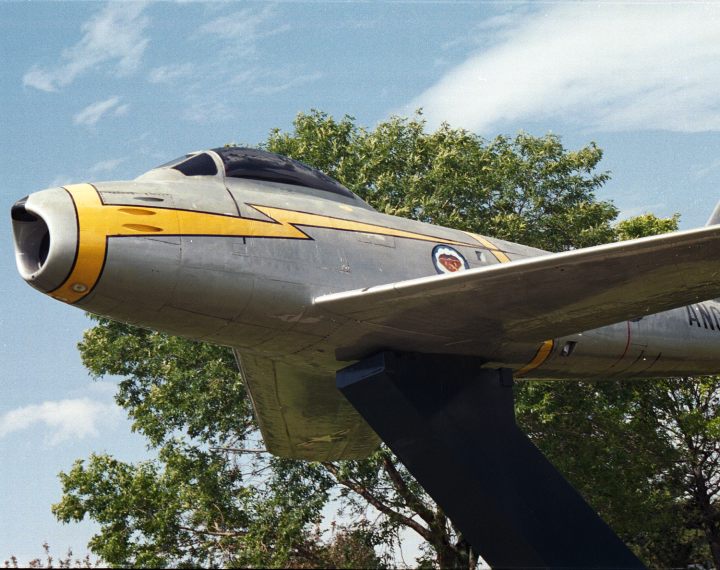 We learned about the Air Force, its people and its jobs. We saw a great movie about the Air Force now and its future. The kids saw the fire crash trucks and learned about using foam instead of just water. We have seen the F-16 's fly and have seen that how everything hanging under the wings are not only bombs The kids saw the airplanes in the hanger and learned about how some things are secret and cannot be photographed. They had a chance to see afterburner rings, Heads up displays, Multi function displays, surface to air missiles, air to air missiles and a lot more. They learned about the opportunities in the Air Force and how you really can go to college, even if you don't have a lot of money.
The kids learned about G forces and how a pilot deals with tremendous, sudden, weight gains. The kids learned about tunnel vision and hypoxia. The viewed the engine shop and have seen the insides of a real jet engine. And, since they were there when I came up with the idea of going to a real Air Force Base, they learned that anything that man can conceive and believe, with some work in that direction, he can achieve.
I would like to thank General Rezac, Captain Neely and the other crew members at the 183rd Fighter Squadron for doing a tremendous job in giving us a great tour and treating the kids like professional, responsible people.