This is the greatest drop zone on the planet Earth. Skydive on the North Pole and you are sky diving on the top of the world. You will never have a greater logbook entry. You will never have excitement like this anywhere in the world. We have been taking skydivers to the pole since 1997 and they always come back with, "This was fantastic." or "This is the greatest jump that I have ever done." It's true, sky diving on the North Pole is unlike any other place on the planet and you will never see so many fantastic views. Just email me at the link above and join our skydiving group next April. Don't wait, time moves faster than you think and space is limited, get registered today.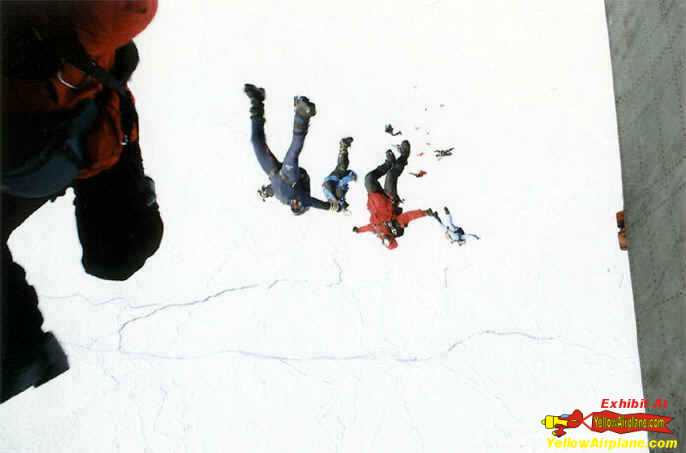 This jump was made on 2001, Altitude about 15000 feet and there are about 15 Jumpers in this picture.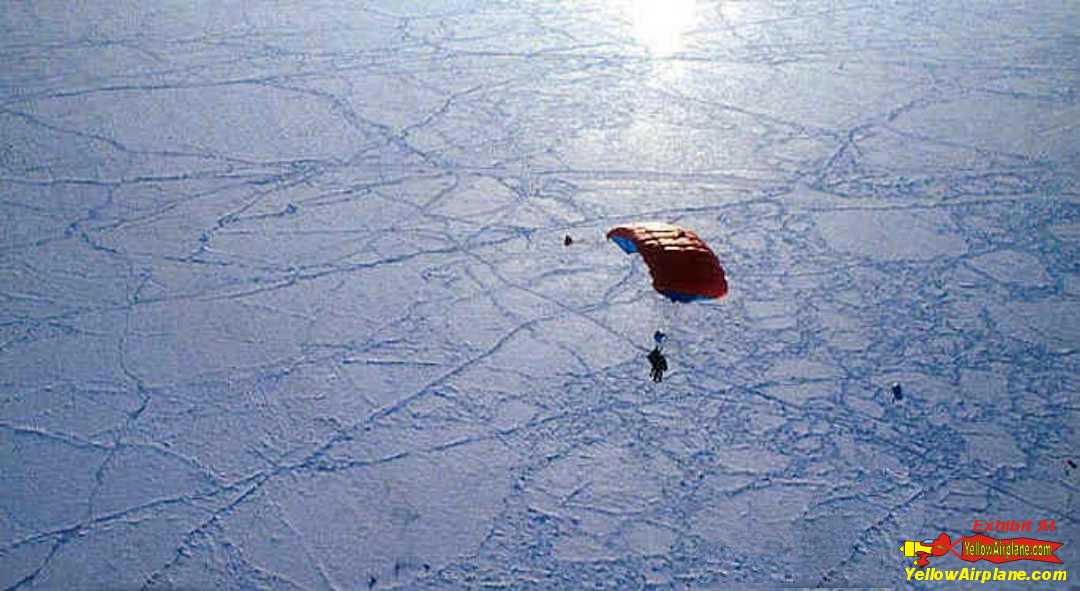 Click Here to see the North Pole Skydiving Photo Gallery
Click Here to see the 2005 Skydiving Exhibit
Itinerary
Day 1, We will pick you up at the Longyearbyen Airport then transfer you to your hotel.
Day 2, Preparation for your jump and equipment checkout. Group meeting and celebration dinner.
Day 3, Depart for the North Pole Base Camp, Camp Borneo, on an An-74 airplane. Flight time will be about two hours. Final checkout of equipment. Depart Camp Borneo for the Geographical North Pole aboard a Mil Mi-8 helicopter. Land at the North Pole, drop off tourist and equipment. Takeoff for the jump from about 5000 feet. Return flight to Camp Borneo. Depart Camp Borneo back to Longyearbyen.
Day 4, Flights to home or take the highly recommended local tours on snowmobiles, dog sleds, ice cave tours or Coal Mine tours. These tours are fantastic.
Please note: This itinerary can change at a moments notice depending on the weather in Longyearbyen or at Camp Borneo.
Tandem Jumps
Please call to make arrangements for tandem jumps. s may vary depending on the skydiver that you will be jumping with.
What's included:
Travel to and from airport.
Celebration Dinner prior to flight to pole.
All flights to and from the pole.
Professional Guides.
EXP parka, pants and boots. We have a limited number of jump boots available.
North Pole Certificate.
What is not included:
Airfare to and from Longyearbyen
Hotel accommodations in Longyearbyen.
Travel insurance
Jump equipment. Note: We can arrange for equipment and tandem jumps.
Experience Required: You must have previous jump experience and be prepared to show your license to the Jumpmaster. For Tandem jumps there is no experience necessary but prior arrangements must be made for tandem jumps.
Physical Abilities: You must be in reasonably good condition.
To this date there has been no tube jumps done at the pole. You can be the first. Also, I don't believe that there has been any canopy formations or stars done on the pole, you can be the first to do this too.
Balloon Rally at the North Pole
Home page for Polar Adventures
Go to the Yellow Airplane Store
Click Here to see a list of other Drop Zones or to add your Drop Zone to the List.

Another Action Adventure Travel Website

Click Here for Skydiving Apparel
Click Here for Skydiving Books
Click Here for Skydiving DVD's