YellowAirplane.com
A Beautiful A-6 Intruder Picture
on the deck of the aircraft carrier USS Kitty Hawk, CV-63
1977-1978.
Aircraft Specs at bottom of page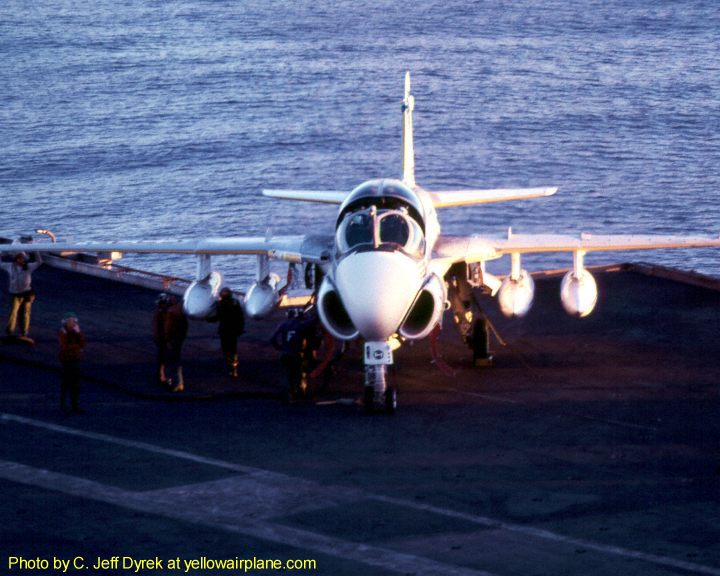 Photo by C. Jeff Dyrek

This aircraft is the A6 Intruder, all weather, light attack bomber setup as a tanker. One thing that jets need is gas, and lots of it! The A6 in the tanker configuration accompanies the squadron to the battle zone where they refuel before going into combat. This is one of my favorite pictures from the cruise. It was taken at sunset and produced a beautiful glow. Look at nice the ocean is behind it. The day was so beautiful which made the view from the crows nest nothing less than fantastic.
Man 0 Man,
Do those pictures bring back great and (hard Working) memories. I worked on the Bow Cats on that cruise. The planes brought back chills on my skin remembering alot of those squadrons and their great crews and the hours we spen on the flight deck together. Thank you so much, little did I know those were really the best days of my life.
sincerly, James (JD) Seabolt
ABE3 Bow Cats
A Crew member from the 1st Kitty Hawk cruise
On Tue, 17 Apr 2001 13:15:35 -0400, Robert Johnstone wrote:
Hi,
I just found you page and quite a page it is. Thank you for your efforts. I am an original 'Plank Owner" of the Kitty Hawk, boarding her in April 1961 right out of boot camp. My billet was Air traffic Control, working in the CIC. We had a lot of good times on the ship, some a bit seasoned with problems with the new technology. Being aboard during a shakedown was a real eye-opener. I never thought a ship that size could do 55 knots and then do a hard turn to port. Fortunately, I had previous experience on the water and loved every minute of it.
The first 'cruise' took us down to Cuba during the 'crisis', then afterwards on the South America, crossing the Equator enroute. My initiation was a blast and the times are visited once and again, looking through the yearbook I spent a little over a year onboard and was one
of the best times of my life. Thanks again
Bob Johnstone
<<< Previous Photo Next Photo >>>
Keep Following the Arrows >>>>
To See All Exhibits in the Yellow Airplane Museum, Click Here.

Click Here's what a partial ejection looks like, very unusual.
Specifications for the A-6 Intruder.

Please note that these specs are only for one version of the A-6. Newer versions have more power and different electronics configurations.

Manufacturer
Grumman
Length
54'9"
Height
16'2"
Span
53'0"
Area
529 sq. ft.
Empty Weight
26743 lbs.
Max. Weight
60400 lbs.
Engines
2
Powerplant
Pratt & Whitney J52-P-8A
Thrust each
9300
Range
1010 N Miles
Cruise Speed
470 Kts
Max. Speed
644