www.YellowAirplane.com
A Photo of a Pretty Chinese Lady
and a Canadair CT-114 Tutor at the Springfield, Illinois Air show.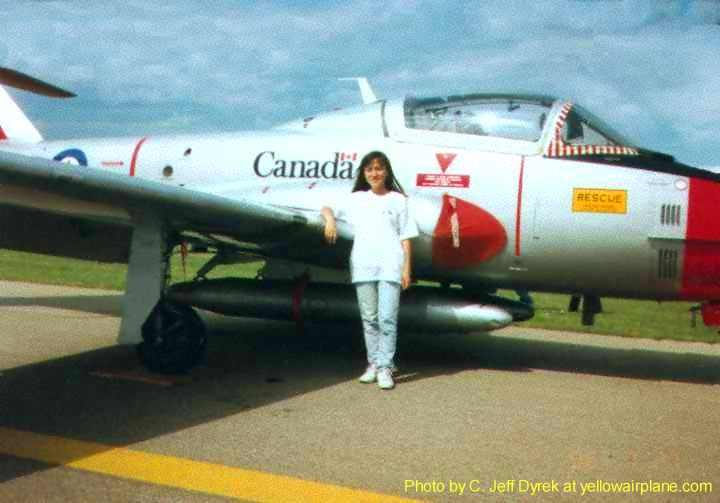 Photo by C. Jeff Dyrek
The young lady is Weiqun, a computer science major at Western Illinois University. She is from Beijing, China. We were very lucky at IAC Chapter 61 to have Weiqun and her friend, Rose help out at the Salem Illinois Aerobatic Competition.
Click Here's a little story to let us know how lucky we really are in these United States. One day Weiqun and I were driving in the country side in Western Illinois. She was looking at all of the farmland and asked, "Do any individuals own any of this land?" My response was the only thing I could say, "It's all owned by individuals."
Weiqun was totally shocked. You must know that Weiqun is much like myself, we like to talk a lot. Once Weiqun heard this news she couldn't say anything for fifteen minutes. This made me realize how lucky we really are. You can see the difference in our cultures by how much freedom our governments allow us.
Airplane Books Airplane Videos Airplane Models
To See All Exhibits in the Yellow Airplane Online Museum, Click Here.

WW2 War Correspondent, Ernie Pyle's story
teaches us that it is most often the simple things in life that provide the glue in a community.
Values such as honesty, persistence and concern for those less fortunate.
Yellow Airplane Home Base

Airplane Books * Airplane Movies * * Airplane Models * Camaros for SaleAircraft Calendars * Jet Fighter Models * Flight Manuals

Exhibits * Museums * RC Boats * Ship Models * Sailing Ships

Tanks * Military Vehicles * * * Action Figures * Train Sets * Railroad Books * Real Sports Cars for Sale * ; Real Sports Cars for Sale * Adventures * Survival Equipment More Aviation Art * More Models *

Click Here for a list of WW2 Fighter Groups
Click Here to go to the YellowAirplane Online Museum
Look at these exhibits and tell me what these men really fought for.
the 34th fighter Squadron USS Kitty Hawk
About the Webmaster, Why God Send Me to the North Pole
Avitop.com Aviation banner exchange - Join now!
/pics/Weiqun_jet.html|25993"