Twelve O'Clock High (1949)
Gregory Peck
The wartime memories of surviving World War II bomber squadrons were still crystal clear when this acclaimed drama was released in 1949--one of the first postwar films out of Hollywood to treat the war on emotionally complex terms. Framed by a postwar prologue and epilogue and told as a flashback appreciation of wartime valor and teamwork, the film stars Gregory Peck in one of his finest performances as a callous general who assumes command of a bomber squadron based in England. At first, the new commander has little rapport with the 918th Bomber Group, whose loyalties still belong with their previous commander. As they continue to fly dangerous missions over Germany, however, the group and their new leader develop mutual respect and admiration, until the once-alienated commander feels that his men are part of a family--men whose bravery transcends the rigors of rigid discipline and by-the-book leadership. The film's now-classic climax, in which the general waits patiently for his squad to return to base--painfully aware that they may not return at all--is one of the most subtle yet emotionally intense scenes of any World War II drama. With Peck in the lead and Dean Jagger doing Oscar-winning work in a crucial supporting role, this was one of veteran director Henry King's proudest achievements, and it still packs a strong dramatic punch. --Jeff Shannon
Product Description
This gritty World War II action drama staring Gregory Peck, Oscar winner Dean Jagger, Hugh Marlowe, Gary Merrill and Millard Mitchell is seen as one of the most realistic portrayals of the heroics and perils of war. Convinced an air force commander (Gary
Willow Run B-24 manufacturing plant by Warren B. Kidder
Click Here to look at the Book and
a Free Exhibit
by Warren Benjamin Kidder
The B-24 Liberator was built in a factory called Willow Run in Detroit Michigan. The factory was built by Henry Ford and designed by Charles Sorensen. The willow run factory was named willow run because is it was built on the willow run creek. This is interesting because the last person to live on the willow run property was Warren Benjamin Kidder. I have spoken to Ben, personally, and he is one of the nicest people that anyone could ever meet. Ben wrote a book called Willow Run, Colossus of Industry, a book about the production of the b24 liberator, military bomber. When the factory was in full production it produced a B24 liberator every 56 minutes. This factory is one of Henry Ford 's greatest achievements. You can read more about this fantastic, very well written book by clicking here and going to the Willow Run B-24 Liberator Production Exhibit.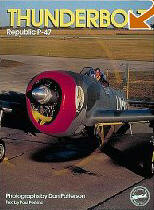 Thunderbolt : Republic P-47
Book Description
Production P-47 Thunderbolts were in the air in early 1943, excelling in bomber escort and ground-attack bombing. P-47s were flown by the air forces of Australia, Brazil, France, the Soviet Union, and Great Britain--more than 12,000 planes in all, more than any other U.S. fighter before or since. The seventh volume in the "Living History" series. 58 color and 47 b&w photos.