I am discovering that in what superficially seems to be a blank white world, there is much more here than a clean slate upon which to leave one's impressions, and that there will be just as many impressions which will be indelibly engraved onto my heart. There are a thousand hues of blue-gray. There are even more shades of minty turquoise and cool aquas. And yes, there is a sun..... out there somewhere...... behind all the marshmallow clouds.
I am currently sitting in my room at the hotel in Svalbard in front of me trusty laptop. It is an unassuming hotel, in an unassuming town. There's no room for anything awe-stentatious here. This is Longyearbyen, an old mining town - strictly utilitarian in nature, but lately changing its flavor ever so slightly to accommodate the more frequent tourist whose synapses misfired while perusing the Florida travel guide. So, as I was saying, I am sitting in my room,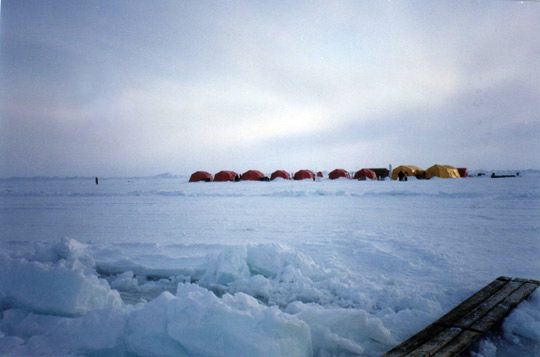 looking out the window, and noticing the faint misty outlines of three reindeer as they prance past in the thick snowfall. It's such perfection in its imagery that it almost seems as if they were trained (not to mention, paid well) to do this on demand! I look at my topographical map carefully, and I am positive that there are steep mountains just on the opposite shore of the fiord, but for the time-being, I will have to trust my judgment alone as they are completely obliterated by the swirling snow.
And as much as jet-lag has worn me out, I am still awake. It is strange that there is no sunset per se. Svalbard is fast-approaching its 4 months of the midnight sun. How does anyone here sleep when it's full daylight at 3:00AM? Then again, maybe THIS is where I should be living; with my ridiculous sleeping habits the way they are. People here go for a snow-jog at midnight. Forget daylight savings time. It has to be a tremendous physiological adjustment which the local residents grow accustomed to. By default.... Not much choice in the matter, is there?
I've met most of my fellow expeditioners, and it turns out that many of them will be running the North Pole Marathon. The very FIRST North Pole Marathon! Although I am not running myself, I am genuinely interested in the intricacies of running in such conditions. What type of footwear? Clothing? Socks? Will they need cleats? Snow-shoes? To my surprise, there's a whole science in running on snow and ice. Many of the marathoners have already done the South Pole Marathon, and are simply adding this one to their resumes. There is a videographer who will be taping the undertaking. Naturally, I had little advice to offer this group, but..... I gave them an idea which they found very amusing. My suggestion was for each of them to attain world-record status by completing the run in negative time. How, you ask? At that moment, I quite a few pairs of very wide eyes drilling into me, and just as many pairs of ears piqued. It's kinda nice having that kind of undivided attention. Hmmm.... You see, I thought it would be 'funny' to run the marathon in a counter-clockwise direction around the 90-degree marker so that they could all arrive at the finish line not only a day earlier, but also a day younger! Hello? Guinness Book of World Records? I can see the headline already: "11 runners, many of them bi-polar, complete the first North Pole Marathon - one day before they started!"
I also just heard that, amazingly enough, a few of the pilots of the Antonov and military helicopter aircraft via which we will reach the Ice Base and then the Pole itself, are Ukrainians! Since that is my own background, and because I am fluent in the language, I'm sure I'll wind up being an interpreter of sorts at one point or another. How fortunate is that? But, how DOES one land such a massive monster of a cargo plane on ice and not skid it out of control? Perhaps the plane does do its own version of a figure skater's triple axel... Who knows? I guess there's only one way to find out, eh? <gulp> (More trivia: the arctic ice is only 2 to 3 meters thick, and can drift up to 20 kilometers in a single day!)
Well, I will end this update here. I must now go pick up some of the equipment which I will need to bring with me. And... I have to make an offering to the weather gods to appease them so that they can turn off the snow machines in time for our departure to the Drifting Ice Base tomorrow. Assuming the positive, we will all be sleeping out there on the ice at the 89-th degree, lovingly dubbed Borneo, tomorrow night, and then....off to the pole on Thursday! Send good thoughts North, please....
Look out, Santa. The Icewoman Cometh!!!
Now, you will all kindly excuse me while I go learn how to use my new GPS unit. Can't wait to see that number 90!!!
Moki