YellowAirplane.com

Noses are Red, Fingers are Blue

We're off to the North Pole, How about you, Moki's North Pole Vacation with Photos

Moki's daily notes of the North Pole of Expedition 2003

If I reach the pole, I must do everything in my power to contain my overflow of emotions, and must keep from crying!!! For if I do, I will freeze my eyelids shut! No joke! Bet you didn't think of THAT, didja?
North Pole Expedition 2003
Electric Guitars for Sale * Acoustic Guitars for Sale
Survival Equipment North Pole Videos * North Pole Books
Come with us to the North Pole next April
Please Note: The background on this page is an aerial photo of the sea ice near the island of Svalbard, Norway
.This is the Third page of Moki's story

Go to Page One

Go To the Next Page in this Exhibit

April 16, 2003
Longyearbyen, Svalbard
OK. Whoever of you was the one to kill the proverbial lamb and offer it to the weather gods, I THANK YOU!
WE'RE OFF TO THE POLE!!!
Until next time......
Moki the Viking!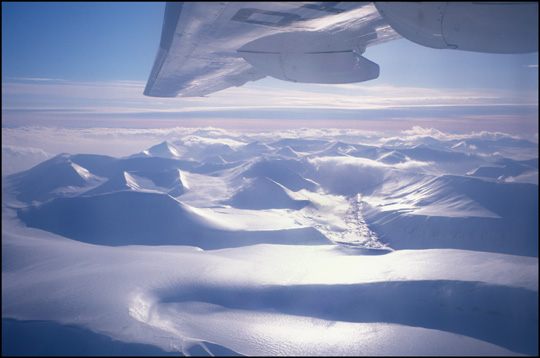 Click Here is the City of Longyearbyen. You can see it just to the right of the very center of this picture
Longyearbyen is the largest of the three cities on the island group of Svalbard. It is, today, mainly a tourist center so people can safely see the life in arctic conditions, but it is also the center of the most northern Coal Mine in the world

. I have told many people that I want to return up to the Ice. Naturally, they all think I'm insane, but it doesn't matter to me what they say. It is true that I want to go back. I just HAVE to go back. There's no two words about it. One way or another, I'll be up there next April
/North_Pole_2003/Moki_North_Pole_Adventure_4.html|47536"