www.YellowAirplane.com
This exhibit was posted on 7-5-2005
Please Note: The background on this page is an aerial photo of the sea ice near the island of Svalbard, Norway
Islands interior of Spitsbergen, Svalbard, Norway.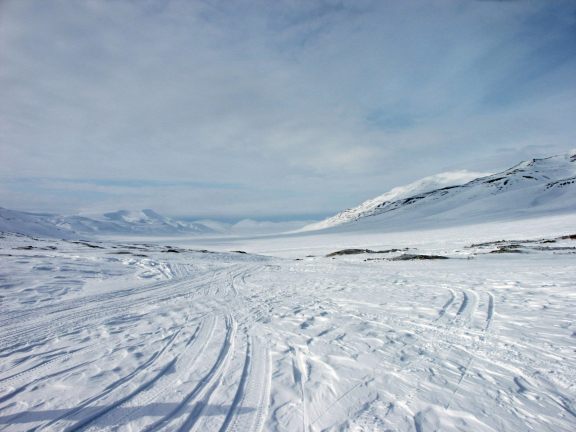 Photo by C. Jeff Dyrek
Our hour and a half was over and we started our journey back to Longyearbyen. As we drove through the streets of Barentsburg we had to travel along streets that were covered with what looked like industrial ash and gravel that was used to increase traction. I drove as close to the edge of the street as possible, avoiding the ash covered street so I could reduce wear on the skis. Maybe the wear on the skis is not a concern because most of the other riders drove right down the middle of the street.
After leaving town, we again headed toward the islands interior as seen in the picture above.
I have looked at the web many times and found that is common for people to spell Spitsbergen with a "Z" Spitzbergen.
Click Here for Jaguar Sports Cars for Sale
Click Here to go to the YellowAirplane Online Museum
or Bible Gateway, Read Almost any Bible, In Any Language, For Free, Great Search.


Look at these exhibits and tell me what these men really fought for.
The 34th Fighter SquadronThe 34th fighter Squadron WW2 Exhibit USS Kitty Hawk Aircraft Carrier Exhibit.
About the Webmaster, Why God Send Me to the North Pole

Click her to see how I have to live and what it looks like to be a disabled Vet.
/North_Pole_2005/Snowmobile_Barentsburg_20_Spitzbergen.html|11269"