Y-I-BET
On the Youth of America
Youth Innovative Business Environment Training
Experiments with Activities
Using Models to Teach Your Kids about Airplanes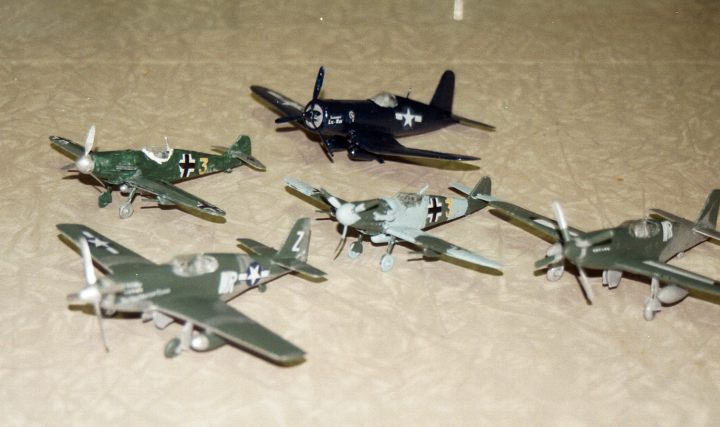 The models are all complete and here they are, two Messerschmitt ME-109's, two P-51A Mustangs, and a lonely F4U Corsair.
When we built these models, we told the stories of the Black Sheep Squadron and the legendary F-4U Corsair. We talked about the hero's that flew these aircraft, not only the famous people but the local people who flew in the great war. These are the hometown hero's that look like farmers or just the old person who lived down the street. We talked about the lives of people in other countries as compared to the people here and how we had to earn our freedom and high style of living.
I later found Stephanie making engine noises while flying her airplane around her room. What was she thinking about? Was she putting another brick in the building of her future? You bet and that's Y-I-BET on the youth of America. There is still hope, but we must take action steps if we wish hope to become reality.
Yellow Airplane Gives You the Best Source of Airplane Models, Airplane Books, Airplane Movies, Aviation Art, Aircraft Calendars, Airplane Tools, Exhibits and MORE!
.
Click Here for Jaguar Sports Cars for Sale
Click Here to go to the YellowAirplane Online Museum
or Bible Gateway, Read Almost any Bible, In Any Language, For Free, Great Search.

Look at these exhibits and tell me what these men really fought for.
34th Fighter Squadron Willow Run B-24 Liberator Production Exhibit
Read the Webmasters Story, "Why God Sent Me to the North Pole." You will Be Surprised.
/Y-I-Bet/YIBET_exp_Models_9.html|51565"
Copyright Dates: