\

www.YellowAirplane.com
Sea Sparrow Anti-Aircraft Missile System.
on the deck of the aircraft carrier USS Kitty Hawk, CV63.
1977-1978.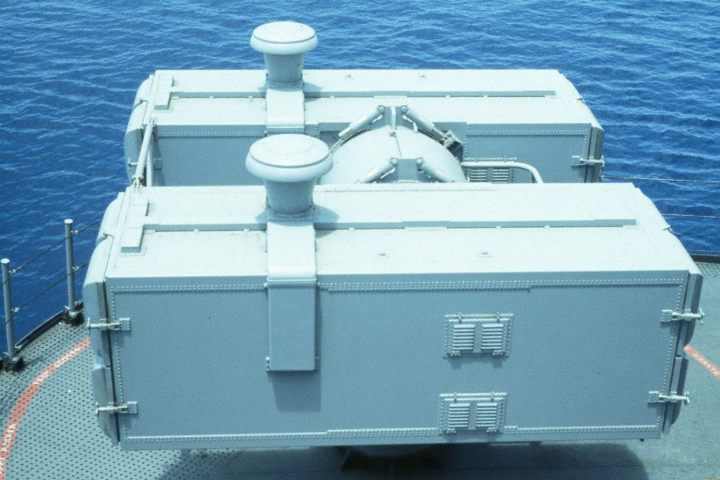 Photo by C. Jeff Dyrek
Airplane Books Airplane Movies Airplane Models Camaros for Sale
I believe that this was the Sea Sparrow Anti-Aircraft System.
I did not work on these systems an I am sometimes mistaken. If you can tell me anything about this system please send me e-mail at the bottom of this page
It's funny because these missiles were the only defense our ship had. At that time there were no anti-aircraft guns, no cannons, and no phalynx system. If these missiles didn't work, we were sitting ducks

A Letter from Mike, one of our readers
You might be correct in saying that the missile system was our only ship defense. But with a screen of destroyers, frigates, subs, fighter screen, the E-2 Hawkeye, as well as the Aegis guided missile cruiser that was part of the task force, we were very well protected.
A great Link provided by Dr. Kenneth Johnson

<<< Previous Photo Next Photo >>>

To See All Exhibits in the Yellow Airplane Museum, Click Here.

Yellow Airplane Home Base
Airplane Books * Airplane Movies * * Airplane Models * Camaros for SaleAircraft Calendars * Jet Fighter Models * Flight Manuals Exhibits * Museums * Tools RC Boats * Ship Models * Sailing Ships Tanks * Military Vehicles * * * Action Figures * ( Train Sets * Railroad Books * Real Sports Cars for Sale * * Real Sports Cars for Sale * Adventures * Survival Equipment Another Great Source of Models *

Click Here to go to the YellowAirplane Online Museum
Look at these exhibits and tell me what these men really fought for.
the 34th fighter Squadron USS Kitty Hawk
About the Webmaster, Why God Send Me to the North Pole

Click her to see how I have to live and what it looks like to be a disabled Vet.
Avitop.com Aviation banner exchange - Join now!
/pics/CV63_Anti_Aircraft.htm|48676"