www.YellowAirplane.com
F-14 Tomcats and one
A-3 Skywarrior on the deck
of the Aircraft Carrier
USS Kitty Hawk CV-63
Aircraft carrier USS Kitty Hawk, CV-63.
1977-1978.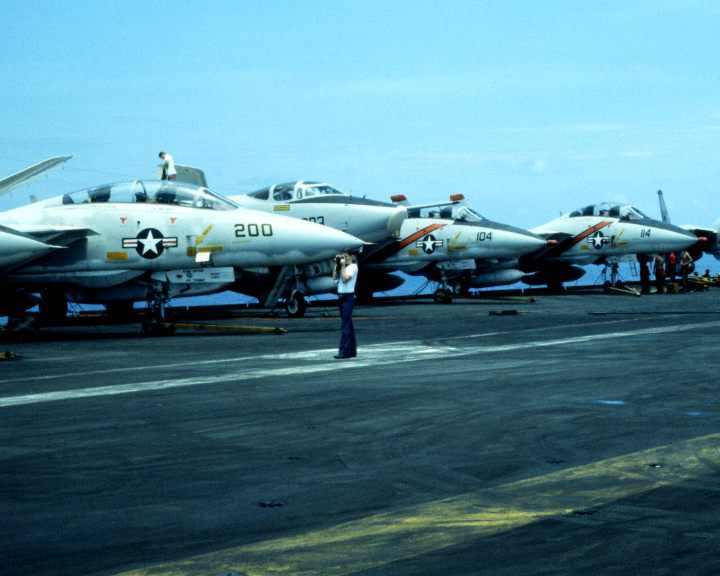 Photo by C. Jeff Dyrek
Airplane Books Airplane Movies Airplane Models Camaros for Sale
F-14 Tomcats and one A-3 Skywarrior sit waiting for some action. The sea is calm and so is the radar. Crew members roam the deck like this was some kind of museum or something. These kind of days happen and you really feel like you're just a visitor. But when the truth sets in, you realize that this is really your home. This is where you live, work, eat and sleep, you're on a aircraft carrier, the USS Kitty Hawk.
<<< Previous Photo Next Photo >>>
To See All Exhibits in the Yellow Airplane Museum, Click Here.

Yellow Airplane Home Base
Airplane Books * Airplane Movies * * Airplane Models * Camaros for SaleAircraft Calendars * Jet Fighter Models * Flight Manuals
Exhibits * Museums * RC Boats * Ship Models * Sailing Ships
Tanks * Military Vehicles * * * Action Figures * Train Sets * Railroad Books * Real Sports Cars for Sale * ; Real Sports Cars for Sale * Adventures * Survival Equipment More Aviation Art * More Models *
Avitop.com Aviation banner exchange - Join now!