www.YellowAirplane.com
Pictures H-3 Sea King helicopter landing on deck.
An H-3 Sea King Helicopter hovers over the deck of the USS Kitty Hawk.
1977-1978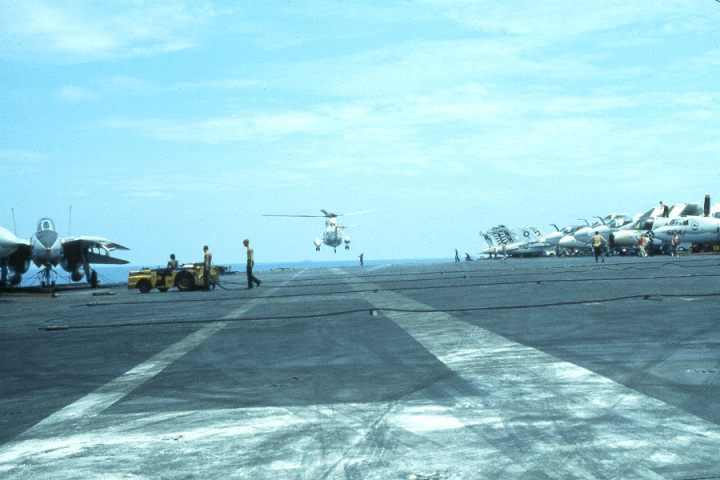 Photo by C. Jeff Dyrek
The helicopter makes its final alignment into wind just before touchdown.
The H-3 Sea King Helicopter was the work horse of the ship. It transferred everything from supplies to personnel from ship to ship. I also remember the H-3 Sea King standing guard, with swimmers, for aircraft launch procedures. The Sea King Helicopter also was used to lower sonar buoys to listen for enemy subs
in the area.

Do you see the wires across the deck? These are the landing wires (arresting cables) used to catch the aircraft as they land. You can see four wires here, I think their are five in all. From what I understand, the pilots aim for the third wire.

0009450283 width=250 alt="H-3 Sea King Helicopter Picture">


Pre Built Mahogany Model
Marine 1, the Presidents Helicopter
Made of Philippine mahogany,
this 1/48 scale model measures 13" in length with a rotor-span of 15½".
Hand painted and detailed, model comes ready to display on the included base.
Click Here to go to the YellowAirplane Online Museum
Look at these exhibits and tell me what these men really fought for.
the 34th fighter Squadron USS Kitty Hawk
About the Webmaster, Why God Send Me to the North Pole
/pics/CV63_Flight_Deck_3.htm|46951"