www.YellowAirplane.com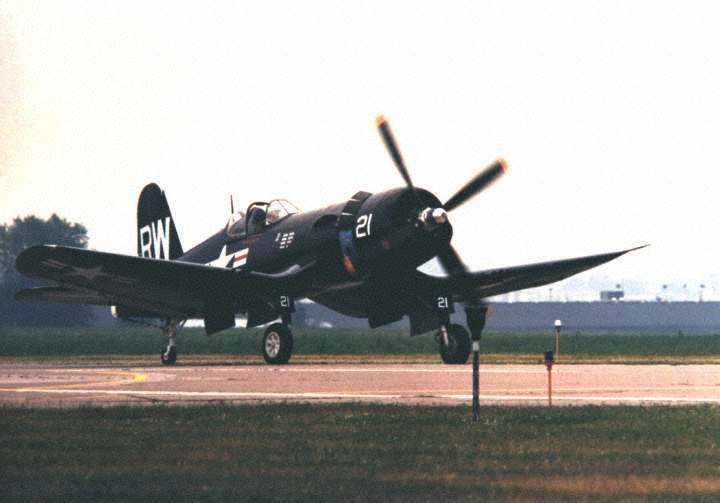 Photo by C. Jeff Dyrek
Airplane Books Airplane Videos Airplane Models
0009546284 width=200>

VMF 214 "Black Sheep" Markings
Pre Built Die Cast Model

Highly accurate and detailed 1/48 scale die cast metal model features U.S. Marines VMF 214 "Black Sheep" squadron markings of Maj. Gregory Boyington from 1943.

0009808116 width=200>

Plastic Model Kit

Plastic kit featuring fully engraved panel lines and rivet detail. Realistic cockpit interior includes a seat and controls. Optional bombs and external fuel cells included. 6¾" wingspan when completed.

0009316155 width=200>

Pre Built Mahogany Model

Made of Philippine mahogany, this 1/32 scale model measures 12 " in length and has a wingspan of 15". Hand painted and detailed, model comes ready to display on the included mahogany base.
To See All Exhibits in the Yellow Airplane Online Museum, Click Here.

Yellow Airplane Home Base
Airplane Books * Airplane Movies * * Airplane Models * Camaros for SaleAircraft Calendars * Jet Fighter Models * Flight Manuals
Exhibits * Museums * RC Boats * Ship Models * Sailing Ships
Tanks * Military Vehicles * * * Action Figures *
( Train Sets ) * Railroad Books * Real Sports Cars for Sale * * * Real Sports Cars for Sale * Adventures * Survival Equipment More Aviation Art * More Models *
See the USS Kitty Hawk Exhibit at the Yellow Airplane Exhibit Hall.
This was the first West Pacific Deployment of the F-14 Tomcat.
Click on photo to see exhibit
See the 34th Fighter Squadron Exhibit at the Yellow Airplane Exhibit Hall.
The 34th Fighter Squadron fly's a WW2 P-47 Thunderbolt
Click on photo to see exhibit

Click Here for a list of WW2 Fighter Groups
Click Here to go to the YellowAirplane Online Museum
Look at these exhibits and tell me what these men really fought for.
the 34th fighter Squadron USS Kitty Hawk
About the Webmaster, Why God Send Me to the North Pole
Avitop.com Aviation banner exchange - Join now!
/pics/F-4U_Corsair.html|25985"