1/87 HO Scale AH-1 Cobra Helicopter Models
1/72 Scale AH-1 Cobra Helicopter Models
1/48 Scale AH-1 Cobra Helicopter Models

1/35 Scale AH-1 Cobra Helicopter Models
1/32 Scale AH-1 Cobra Helicopter Models
RC AH-1 Cobra Helicopter Models
AH-1 Cobra Helicopter Art
AH-1 Cobra Helicopter Books
AH-1 Cobra Helicopter DVD Videos
AH-1 Cobra Helicopter Patch
AH-1 Cobra Helicopter Hat Pins
AH-1 Helicopter Ultimate Soldier
AH-1 Helicopter Photos
AH-1 Cobra Helicopter Everything
USMC Bell AH-1Z Viper attack helicopter from Unimax Forces of Valor.
While the UH-1 "Huey" could perform a variety of roles, it was found to be too slow for the gunship or escort role. Bell Helicopter won the competition for an interim fast armed escort helicopter in March 1966, against the Sikorsky S-61 and the Kaman H-2 Tomahawk, while the Army was waiting for the fielding of the AAFSS AH-56A Cheyenne. The AAFSS program was cancelled in 1972.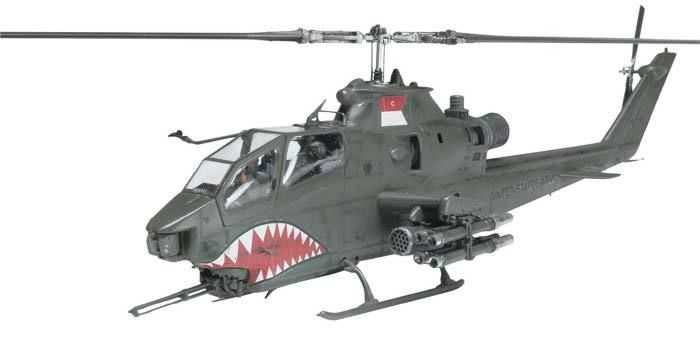 Some early model AH-1G Cobras mounted either two M134 "Mini-guns" or two M129 grenade launchers in a M28A1 chin-turret (TAT-141). Because of problems with the ammunition feed systems, the twin-gun configuration was discontinued. The Cobra was first employed to Vietnam with the 1st Cavalry Division (Airmobile) in August 1967. The Cobra's primary mission was to give fire support to troop carrying "Hueys". The AH-1G Cobra was powered by a single Lycoming T53-L-13 1400 shp turbine engine, and had a speed of 196 mph (170 knots), almost twice the speed of the UH-1 "Huey". The AH-1G Cobra used the M73 reflex sight. The Cobra performed it's job so well it was possible for the first time for "slicks" and gun ships to operated as true air cavalry.
Later models of the AH-1G Cobra, or "Snake", were armed with 2.75 inch (70mm) Folding Fin Aerial Rockets (FFARS) in M158 seven-tube or M200 19-tube rocket launchers, used so effectively at An Loc in 1972. The Cobra had a chin-turret on the M28/M28A1 armament subsystem. The chin-turret mounted the M134 7.62mm "Mini-gun" and the M129 40mm grenade launcher. The AH-1G could also be armed with the M134 "Mini-gun" in fixed side-mounting M18/M18A1 gun pod, and the port (left) side mounting M195 20mm automatic gun on the M35 armament subsystem. The AH-1G could also mount the XM118 smoke grenade dispenser.