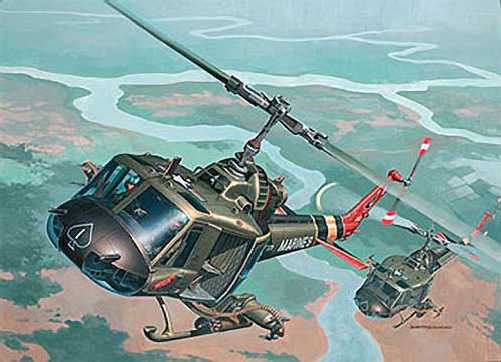 More than 12,000 of all models were built and --- on any given day, during its heyday in Vietnam --- 2,000 could be in the air at once. From 1962, when the first short-fuselage HU-1s arrived, to the later large-doored versions, they took on transport, utility and medevac or "dust-off" missions. The Huey( later morphed into a gunship with multiple protrusions of guns and rocket pods added to protect and escort the unarmed troop carrying RslicksS. When the new Huey Cobra appeared, a true Air Cavalry was born. Though most of the USAF machines are gone, the army expects to keep the Huey( through the first decade of this century. Forces of Valor( replica is of a Bell UH-1D Huey helicopter used in Vietnam during 1968. From mid-1965 to 1968, the American 1st Cavalry Division (Airmobile) was stationed at An Khe Base Camp, which was of strategic importance due to its location near the main highway between Qui Nhon on the coast and Pleiku in the central highlands.
Bell UH-1B Iroquois "Huey"
The UH-1B "Huey" - powered by a single turbo shaft engine with a two-bladed main rotor and tail rotor - was designed to provide air mobility and fulfill multiple tasks, including troop transport, airborne battlefield command and control, troop insertion/extraction, fire support coordination, search and rescue, armed escort/visual reconnaissance, medical ambulance, and gun ship and fire support.
The workhorse helicopter from Vietnam flew every mission from ground support to medivac, Search and Rescue (SAR).
While often identified with Vietnam because of its extensive use there, the Huey was developed in the late 1950s and is still in service today. It is by far the most widely used rotating wing aircraft the world has ever seen.
"Ace of Spades," a UH-1B Huey flown by the 174th Assault Helicopter Company "Sharks," U.S. Army, during the Vietnam War